About this time of year, when I have had my fill of roasted squash, green beans, mushrooms and all of the flavors of fall and winter, I get a craving for the brighter flavors of spring. This dish satisfies that craving perfectly.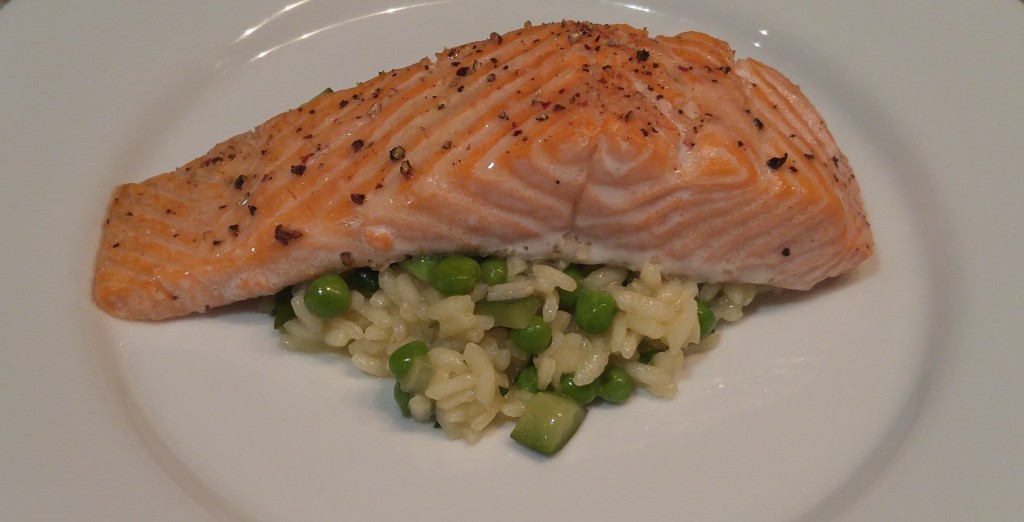 I use steelhead trout in this dish, but salmon, or really any fish you like could be substituted. If you haven't tried steelhead trout before, I highly recommend it. It looks remarkably like salmon (both fish get thier pink color from the krill that they eat), and its flavor is similar to salmon as well. I actually prefer it to salmon, I find the flavor to be slightly milder than salmon and the texture a little less firm. I love rainbow trout, and to me, steelhead is like a cross between rainbow trout and salmon. My husband, who isn't a big fan of rainbow trout, prefers salmon to steelhead.
I prepare the fish simply with a little fennel salt and freshly cracked pepper, and pair it with a risotto laced with peas and fresh herbs and finished with a squeeze of fresh lemon juice. For a detailed tutorial on making risotto, see my Risotto 101 post. If risotto seems like a little more work than you are up for, you can adapt this recipe to make a "cheaters risotto" in the oven.
I like to make my risotto very heavy with vegetables and lighter on the rice. You can always use more rice and less vegetables if you prefer, the proportions in risotto are very forgiving.
Steelhead Trout with Lemony-Herbed Risotto
A fresh summery dish that can be made year-round.
Ingredients
2

portions steelhead trout fillets

fennel salt*

pepper

1

TBSP

butter

1

large shallot

minced

1/2

cup

arborio rice

1/2

cup

white wine

I use a crisp New Zealand Sav. Blanc

~3 1/2 cups vegetable broth

1/2

cup

zuchinni

diced

3/4

cup

peas

frozen work fine

2

TBSP

fresh herbs

chopped (I like to use dill, parsley, chives)

1-2

TBSP

fresh lemon juice
Instructions
Preheat oven to 400 degrees.

Place trout fillets skin-side down on a foil-lined baking sheet and season with fennel salt and pepper. Set aside while you prepare the risotto.

Heat butter or margarine in a dutch oven or heavy pan on medium heat.

Add shallots and cook for 3-4 minutes until softened.

Add rice and cook for another 2-3 minutes until rice is lightly toasted.

Add wine to pan and stir until absorbed/ evaporated.

Begin adding broth, about a cup at a time, stirring frequently until the liquid is absorbed, then adding more broth.

When rice has been cooking for ~15 minutes, add zuchinni.

Place trout fillets in oven.

When rice has been cooking for ~20 minutes, add peas.

After about 25 minutes, rice should be cooked through. When it is, remove the pan from the heat and stir in herbs and lemon juice.

Check trout for doneness, when cooked through the fish should flake apart easily.

Remove skin from trout by sliding a spatula between the flesh of the fish and the skin, the skin should stick to the foil, and the flesh should easily separate from the skin.

Serve trout on top of a mound of risotto and enjoy.
Notes
*Available in better grocery stores and online, or make your own by combining salt with some crushed fennel, fennel fronds, and lemon or orange zest