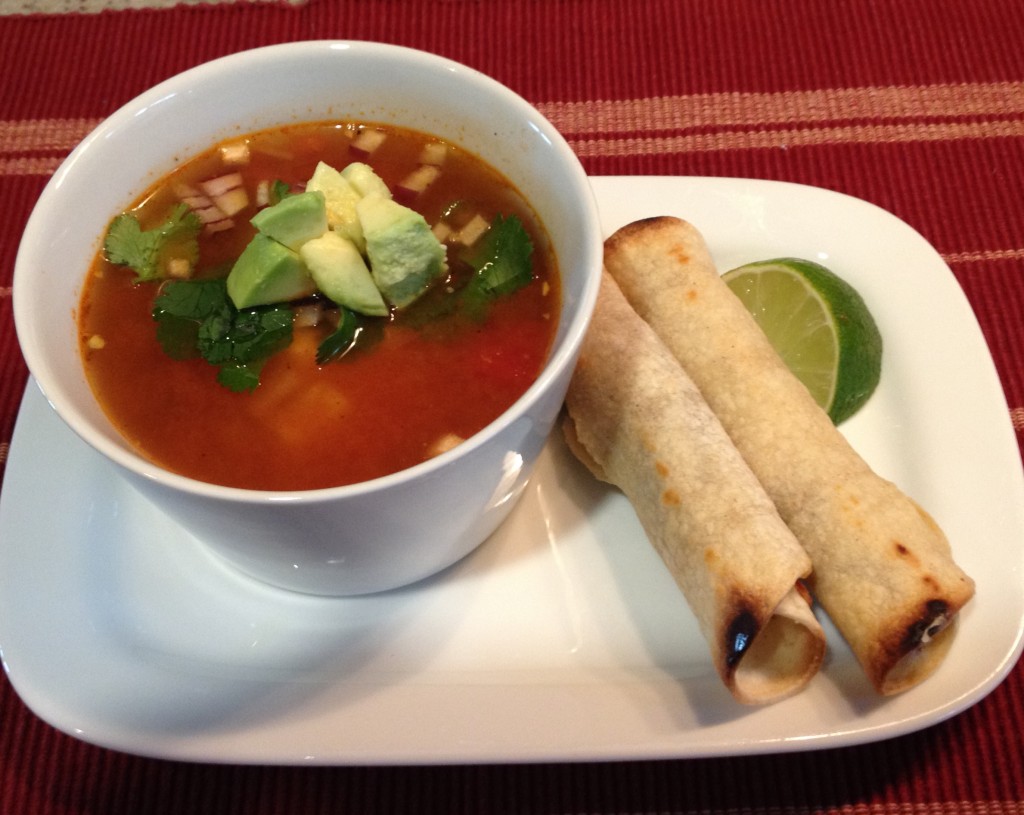 It's that time of year again. Maybe you overindulged a bit over the holidays, even if you didn't , you still might be looking to lighten up your menus and reduce your calorie / carb / gluten / meat or ???? intake. Your family may be with you in that resolution, or maybe they aren't fans of your new "Fitness Pal". Whatever the circumstance, I have a great solution that you can make ahead, enjoy all week, and customize to please everyone.
I originally posted this recipe in January of 2014, but I wanted to revisit it because it is a really great recipe that is highly customizable, and I wanted to highlight that benefit.
The Plan:
Make the basic soup recipe below, but customize it by adding items from the ingredient list below to meet your family's dietary preferences and needs. Then serve the soup with lots of optional toppings on the side. The non-dieters can go crazy with the cheese and crumbled tortilla chips and make the dish as rich as their hearts desire.
Low Carb:
chicken or turkey
shrimp
tofu
lean ground beef or bison
Meat Free:
beans (pinto, black, ect.)
tofu
Low Calorie:
More veggies
A half portion of any of the Low Carb and Meat Free ingredients
Optional Toppings:
diced avocado
diced red onion
cilantro
shredded cheddar or jack cheese
pico de gallo
crumbled tortilla chips
sour cream or mexican crema
jalepeno slices
lime wedges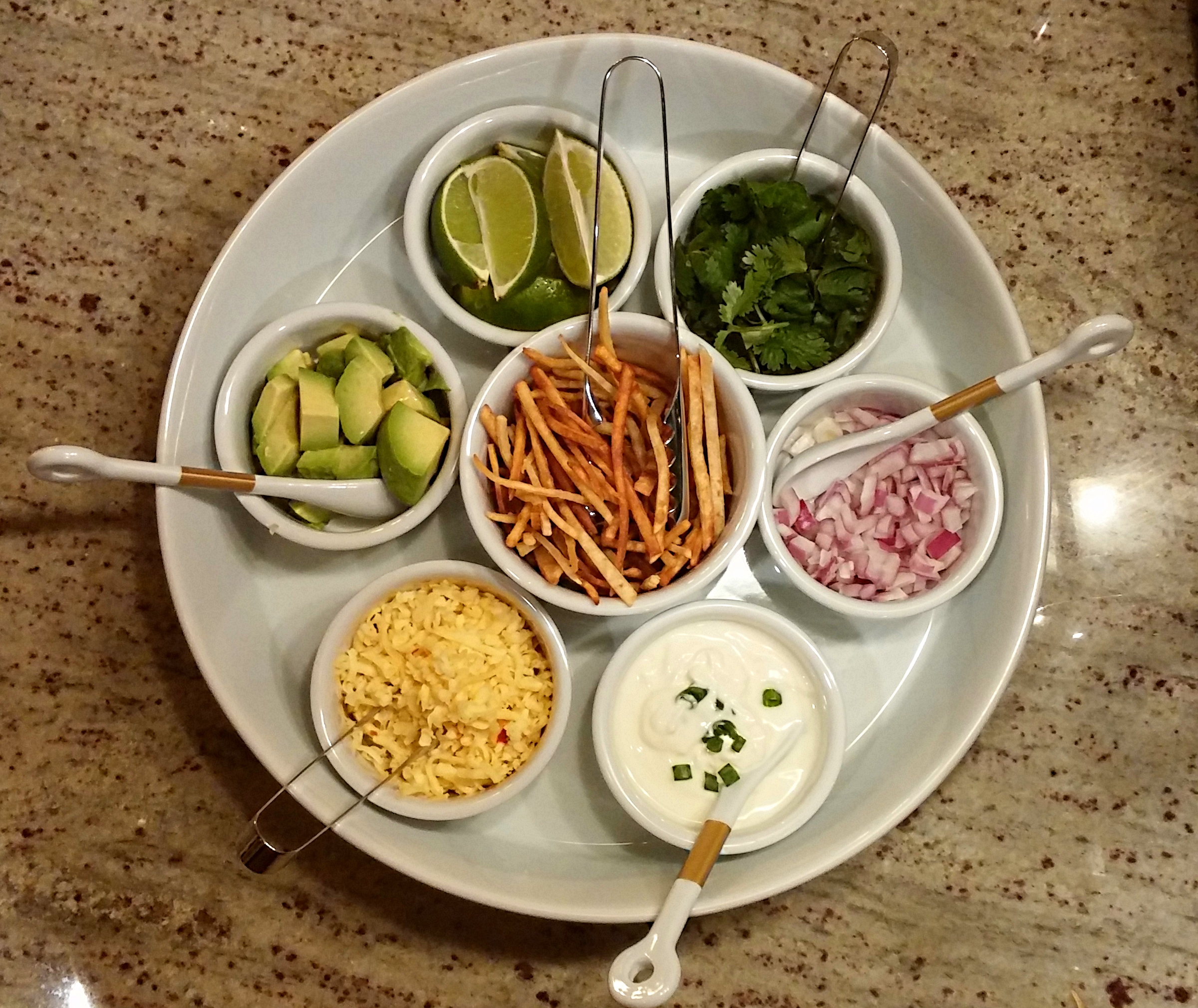 This soup is great on its own, or with a side of black bean or black bean and cheese taquitos. To make the taquitos, preheat oven to 375 degrees and, heat a stack of small corn tortillas (as many as you want to make) in a plastic container or bag in the microwave for about 30 seconds to make them soft and pliable. Spread a couple of tablespoons of black bean dip on one side of a tortilla, top with a sprinkle with cheese (optional) and roll into a cigar shape. Place taquitos seam side down on a parchment-lined baking sheet that has been sprayed with vegetable oil. Spray the taquitos with a bit more vegetable oil, then bake them for about 15 min until they are heated through and beginning to brown.
I like to make a big batch of these and freeze them. To freeze, place baking sheet in the freezer until the tamales are frozen, then transfer taquitos to plastic freezer bags for storage. Reheat for 12-15 minutes at 400 degrees.
Serve taquitos with guacamole, salsa or tortilla soup for dipping.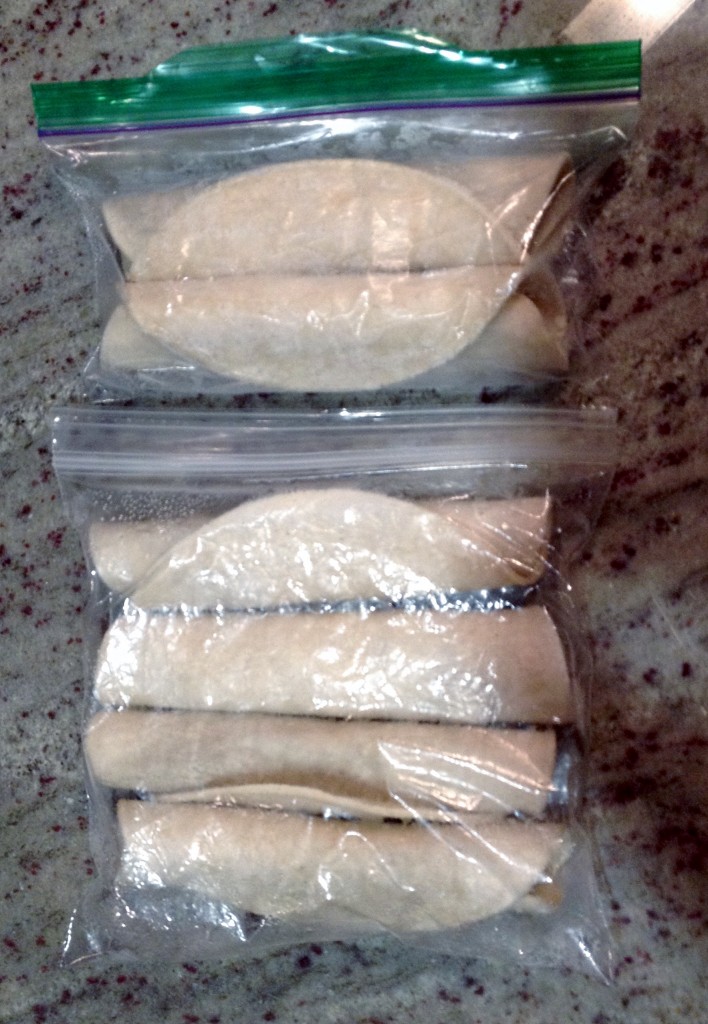 Tortilla Soup
This soup is a healthy and delicious lunch, dinner or starter course any time of year.
Ingredients
3

TBSP

canola oil

1

small yellow onion

finely diced

1/2

green pepper

finely diced

1/2

yellow

orange or red pepper, finely diced

1

jalepeno

serrano, or fresno, seeded and minced (optional)

3

cloves

garlic

minced

1

TBSP

of cumin

1

tsp

oregano

preferably Mexican oregano

1 1/2

TBSP

of ancho chile

2

tsp

chile de arbol

optional

1 20

oz

can of diced tomatoes

fire roasted tomatoes are great in this

5

cups

vegetable broth

1/2

zucchini

finely diced

3/4

cup

corn

fresh or frozen or hominy

2

TBSP

cilantro

chopped

1/2

lime

juiced
Optional Protiens*
10-12

oz

cooked beans

black, pinto, garbanzo, etc. or 2 oz per serving

10-12

oz

cooked and shredded chicken or turkey or 1-3 oz per serving

10-12

oz

cooked and chopped shrimp or 1-3 oz per serving

10-12

oz

cooked lean ground beef or bison or 1- 2 oz per serving
Optional Toppings
crumbled tortilla chips

minced red onion

diced avocado

chopped fresh cilantro

fried tortilla strips

diced fresh tomato

sour cream

shredded pepper jack or cheddar cheese

crumbled cotija cheese

shredded lettuce

pickled jalepenos

lime wedges
Instructions
Heat oil to medium high heat in large soup pot.

Add onion, bell peppers, and jalepeno (if using) and sautee for ~5 minutes until vegetables are softened.

Add garlic, tomato paste, cumin, oregano and ancho and sautee for another 2 minutes.

Add tomatoes (including juice) and broth and bring to a simmer.

Simmer for 10 minutes, then add zuchinni, hominy, and black beans and simmer for 10 more minutes.

Remove soup from heat and stir in lime juice and cilantro.

Serve with optional toppings of your choice.
Notes
*To make this soup customizable to multiple diets, I have provided protein measurements for individual servings and for the entire batch, depending on your preference.