I love cozy pasta dishes all year round, but in cool weather they are especially comforting.  In order to keep them in the weekly menu, I've looked for ways to reduce the pasta in favor of healthier ingredients.  This combination is a particularly successful lower-pasta pasta dish.  You can even make it without pasta at all and it's still great!!
I love to make this dish spicy.  I use the spicy oil from my favorite hot peppers when I make this.  You could make a mild version of this by omitting the crushed red pepper and using a sweet Italian sausage instead of a spicy one.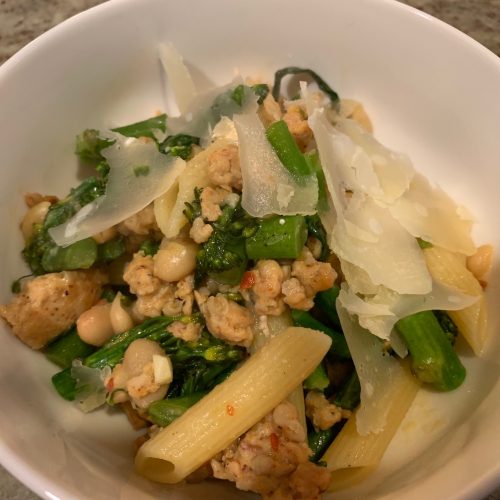 Print Recipe
Pasta (or not) with Chicken Sausage with Broccolini
A comforting pasta dish that's light on the pasta.
Ingredients
4

links

Italian style chicken sausage

(Trader Joes and Isernos both have a spicy and a sweet Italian chicken sausage. I love the spicy one.)

2

cloves

garlic, minced

1

bunch

broccolini (baby broccoli), chopped in 1 inch pieces

1

cup

cannelini beans

(Garbanzo beans also work great in this dish.)

3

TBSP

olive oil

(I use 1 TBSP of oil from a jar of Mama Lil's spicy peppers, and 2 TBSP of regular olive oil.)

1

tsp

Better Than Bouillon No Chicken Base

1

pinch

crushed red pepper

3

handfuls

whole wheat or regular penne pasta

shaved parmaggiano reggiano to taste
Instructions
Bring a small saucepan of salted water to a boil and cook pasta to al dente according to package directions.

Heat 1 TBSP of olive oil in a medium skillet to medium heat.




Squeeze sausage out of casings into skillet and cook for ~4 minutes until mostly browned.

Add broccoli, garlic, and crushed red pepper to skillet and cook for ~1 minute until garlic is staring to brown.

Add 1/2 cup of pasta water and bouillon to skillet and stir to distribute. Then add beans, cover and turn heat to low.

When pasta is al dente, lightly drain it add it to the skillet and stir to combine. Remove from heat and stir in remaining 2 TBSP of olive oil.

Garnish with shaved parm and additional olive oil if desired.