I have been trying to make a great Pad See Ew at home for years without success. I began trying again recently, and I've finally come up with something that I'm excited about.
If you aren't familiar with Pad See Ew, it's a popular Thai noodle dish with broccoli and two types of soy sauce. In addition to traditional "light" or "thin" soy sauce, this dish uses "thick" or "sweet" soy sauce for additional depth and complexity. You can find this kind of soy sauce at Asian markets or here.
Traditional Pad See Ew uses fresh, wide rice noodles. I have never had success working with fresh rice noodles. First of all, getting them requires a trip to the asian market. I love going to the Asian market, but it's kind of far from where I live, so I don't there very often. Secondly, when I work with them, they tend to break up into a million little pieces. For me, the dried noodles just yield a better result.
You can easily make this vegan by omitting the eggs and replacing the oyster sauce with a vegan version that is made with mushrooms or a little mushroom bouillon.
You really need a wok to prepare this dish properly. It's good to be able to push the cooked egg to the side of the wok to prevent it from becoming rubbery. Additionally, you should cook this dish on high heat so that you can get a bit of char on the noodles.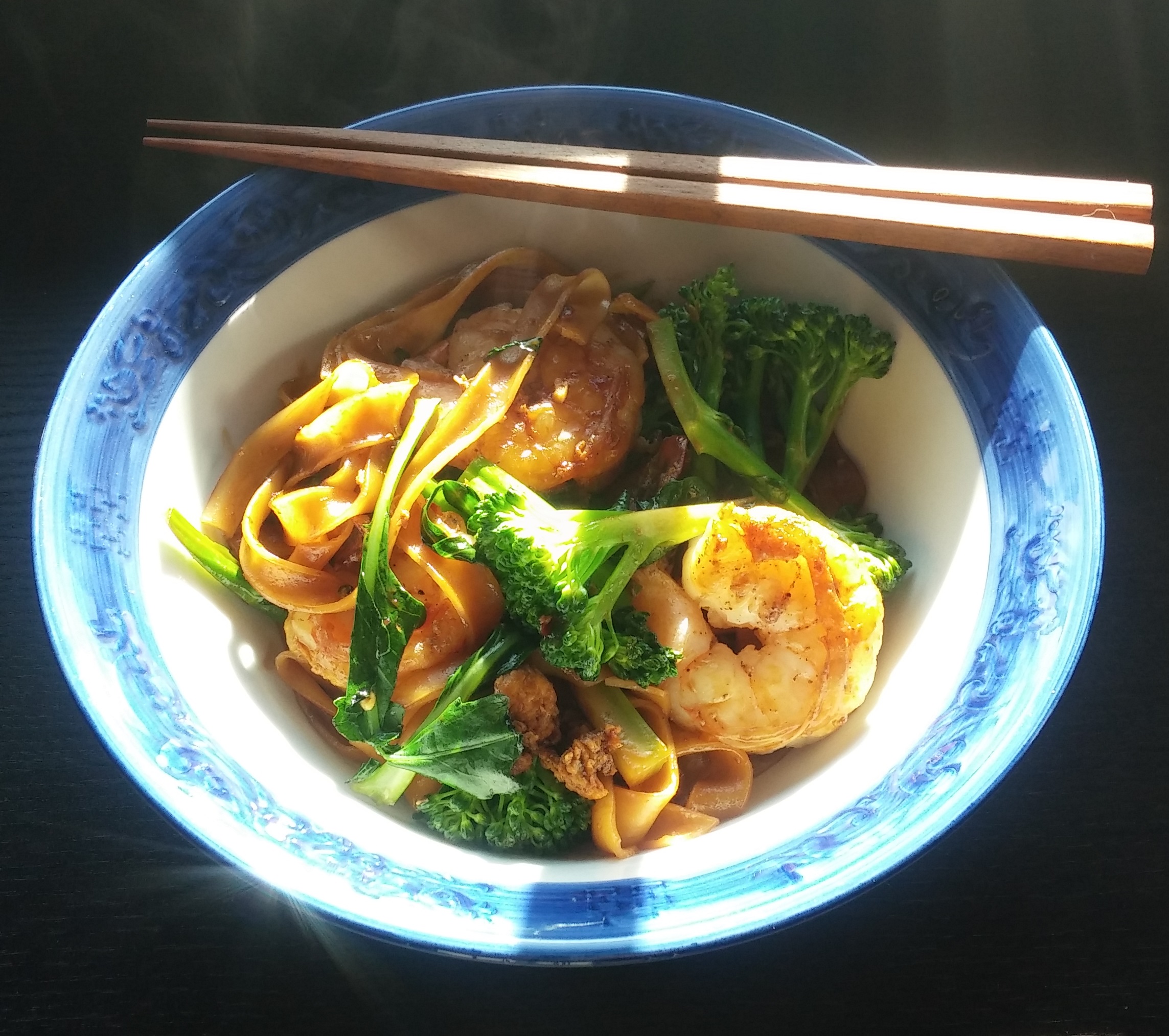 Pad See Ew
A delicious Thai noodle dish with plenty of broccoli.
Ingredients
8

oz

wide rice noodles

2

TBSP

sweet soy sauce

2

TBSP

oyster sauce

1

TBSP

soy sauce

1

TBSP

rice vinegar

2

tsp

sugar

2

tsp

sirracha or chili garlic sauce

or to taste

2

cloves

garlic

minced

8

oz

broccolini florets and stems

about 2 cups*

1

egg

beaten

6-8

large prawns

optional

2

TBSP

peanut oil
Instructions
Fill a large pot of water with hot tap water and add rice noodles. Allow noodles to soak for ~30 minutes to soften them.

Combine sweet soy, oyster sauce, regular soy sauce, rice vinegar, sirracha, sugar and garlic in a small bowl and stir to combine.

Heat wok on high heat and add 1 TBSP peanut oil.

Add prawns (if using) and stir fry for ~3 minutes until they are nearly cooked through.

Move prawns to the sides of the wok and add egg and cook for another 1-2 minutes.

Push egg to the sides of the wok with the prawns and add softened rice noodles and sauce.

Stir-fry noodles until most of the liquid from the sauce is gone.

Add broccolini and cook until tender crisp (about 2 more minutes). During this time let noodles sit and develop a bit of char on them.

Once broccolini is done, serve immediately.
Notes
* I like to use broccolini, but you can use regular broccoli instead. Better yet, use Chinese broccoli if you can get your hands on some.
Adapted from Rachel Cooks Thai