This is a take on the famous Troisgros dish that is known for defining the transition from traditional french cuisine to nouevelle cuisene. More about the plating (the salmon was placed on top of the sauce instead of it being plated and served with the sauce spooned over it) and the method of cooking the fish (a flash sear) than the ingredients or combination of flavors (Salmon and Sorrel Sauce is a French classic).
This dish is a twist on the classic. The sorrel is combined with ramps instead of shallot which adds a deeper onion flavor and adds additional leafy-green fiber. The mushrooms are omitted in favor of a drizzle of truffle oil at the end, and the salmon is seasoned with fennel salt and pepper.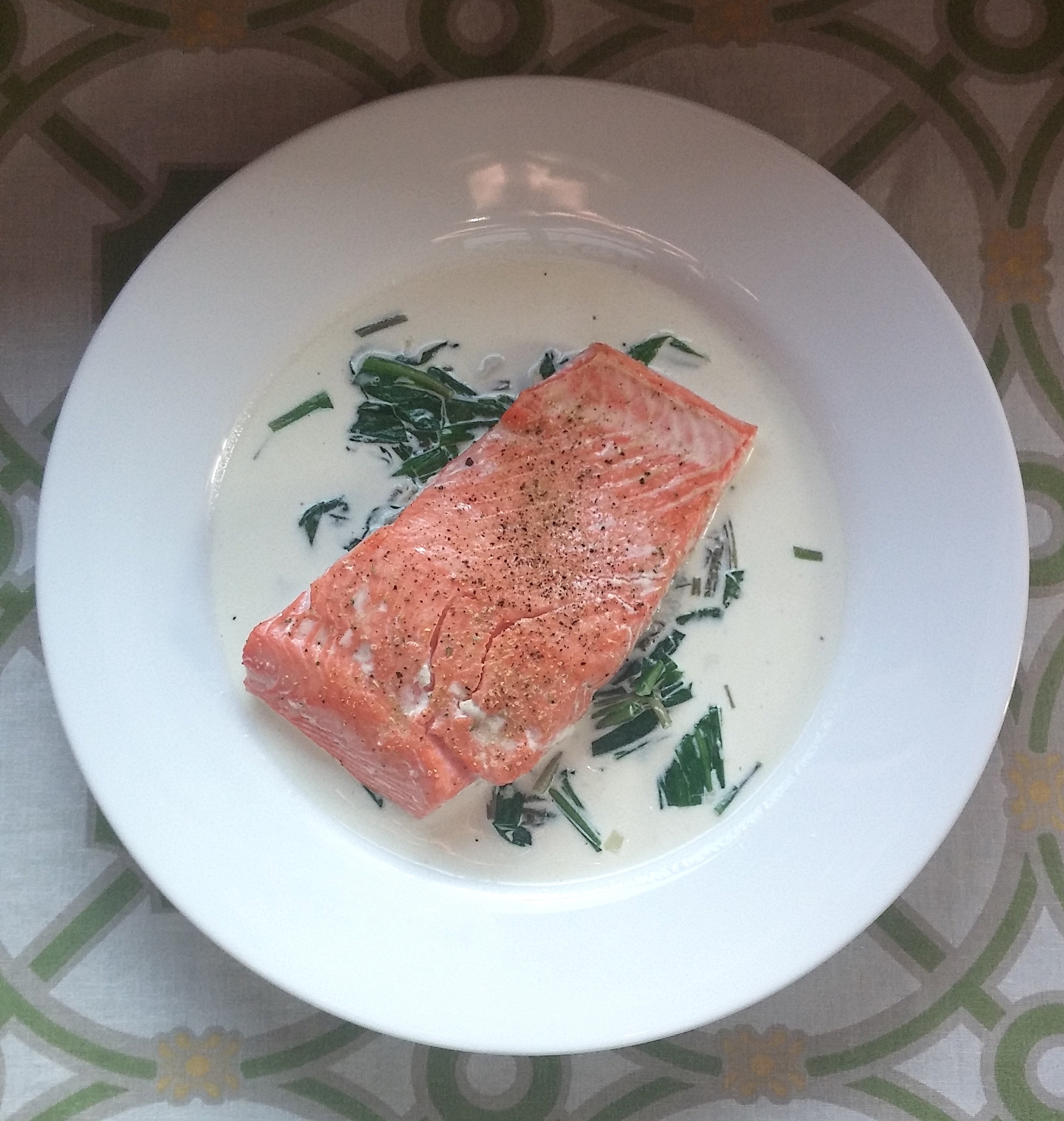 My prep is much less fussy as well. The original dish requires exceptional knife skills to thinly slice the salmon. I sometimes find it hard to even get the skin off the fish without mangling it too much, so I like to use the technique of broiling the fish skin side down on a piece of un-greased foil. When the fish is done, you can slide a spatula between the skin and the flesh of the fish and it will come right off the skin. Hooray!
I realize that sorrel and ramps are not the easiest ingredients to come by. Farmers markets are great places to find these ingredients, but you can also sometimes find them in the regular supermarket. Sorrel is often found in the fresh herb section. Ramps are more seasonal -usually found only in spring. If you can't find ramps, you could substitute a shallot and some spinach or arugula, or a small leek.
Salmon with Creamed Sorrel and Ramps
A delicious dish for spring that uses lemony sorrel and savory ramps to compliment fresh wild salmon. You can easily double or triple this recipe to serve more people.
Ingredients
2 4-6

oz

wild salmon fillets

1

TBSP

butter or margarine*

1 1/2

cups

ramps

white parts separated from leaves and thinly sliced, greens coarsely chopped**

11/2

cups

sorrel leaves

1

cup

cream or half and half

salt

perferably fennel salt and pepper

drizzle of truffle oil

optional
Instructions
Preheat oven to 425 degrees.

Season salmon liberally with fennel salt and pepper.

Place salmon skin side down on a foil-lined baking sheet. Do not grease the foil.

Cook salmon on the center rack for 8-12 minutes until fish flakes easily apart, but is still rare in the center.

While the salmon is cooking, heat butter in a large sautee pan on medium heat.

Add the white parts of the ramps and sautee for 2-3 minutes until softened.

Season with salt and pepper and sorrel and the green parts of the ramps and sautee for another minute.

Add cream or half and half and reduce heat to low.

When salmon is cooked, remove from oven and use a spatula to separate the flesh of the salmon from the skin.

To serve, place 1/2 cup of cream sauce on plate and top with salmon fillet and drizzle with truffle oil.
Notes
*I prefer Earth Balance vegan margarine.
**If you can't get your hands on ramps, you could subsitute a shallot (finely minced) and 1 1/2 cups of spinach or arugula or a small leek, halved and thinly sliced.