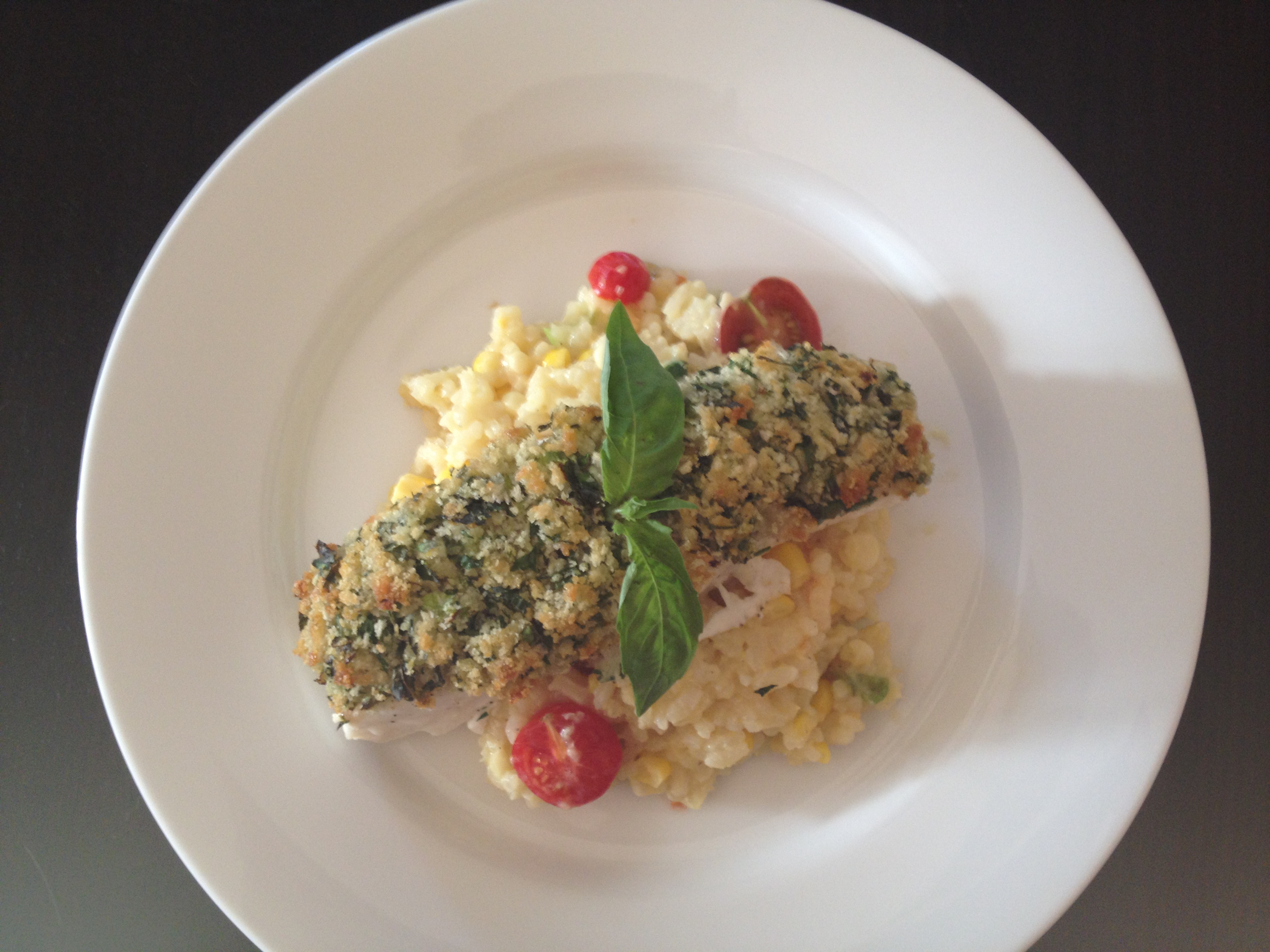 Print Recipe
Halibut With Summer Vegetable Risotto
Light fish, summer herbs and vegetables, and what I consider a "cheaters" risotto because you don't have to stand over the stove stirring it. Perfect for summer produce and temperatures. A salad with stone fruit(s) and basil with a light vinaigrette is a great seasonal compliment.
Ingredients
For the Risotto
2

ears of sweet corn

white, yellow or marbled removed from the cob

2

TBSP

earth balance*

1

TBSP

olive oil

1/2

medium sweet onion

finley diced

1

large clove garlic

minced

salt and pepper to taste

1/2

cup

dry white wine

1

cup

arborio rice

2-3

cups

vegetable broth**

4

TBSP

torn fresh basil plus extra for garnish

2 TBSP for risotto and 2 TBSP for halibut

4

TBSP

finely sliced scallions

green parts only (2 TBSP for risotto and 2 TBSP for halibut)

2

TBSP

minced fresh parsley

1 TBSP for risotto and 1 TBSP for halibut

1 1/2

cups

cherry tomatos

halved

1/2

small zuchinni

diced (optional)

juice of 1/4 lemon
Instructions
Preheat oven to 425 degrees.

Divide corn kernels in half and place one half in blender or food processor with a little water to make a creamy corn mixture; reserve remaining corn kernels.

Heat butter and olive oil over medium heat; add onion and garlic and sautee for 2-3 minutes or until onions are translucent.

Add rice and cook for 1-2 minutes to lightly toast

Add white wine, salt and pepper and cook for 2-3 more minutes.

Add pureed corn and 2 1/2 cups of broth; cover pan, and put in preheated oven for 15 minutes.

After 15 minutes have passed, check pan and stir in remaining corn. If most of the broth has been absorbed, add more. Cover, and return to oven for 15 more minutes.

Remove pan from oven, stir to remove rice from the bottom and sides of pan and add half of the basil, scallions, and parsley.

Add tomatos, re-cover and set aside.
For the Halibut
4 portions of halibut, skin removed (4-6 oz per serving)

1 cup panko breadcrumbs

3 TBSP Wildwood garlic aioli***
Instructions
Reduce oven temperature to 400 degrees.

In a small bowl, mix together panko, remaining half of herbs and aioli.

Place halibut filets on a parchment-lined baking sheet and top with breadcrumb mixture.

Bake for 10-12 minutes until halibut is opaque and firm to the touch.

Serve halibut on risotto garnished with basil.
Notes
* margarine or butter can be substituted
**if you would like a richer risotto, substitute 1/2 cup of the broth with cashew cream, cream, or milk
***you can substitute vegan or regular mayonnaise just add 1 clove of minced garlic for flavor