Lots of people *think* they don't like tofu. There is no question that tofu that is not prepared well can be bland, mushy, and generally not that great. Tofu that is well-prepared is delicious. It absorbs the strong flavors of stir-fry sauces beautifully, and tofu that has been pressed and added to a stir fry complements the textures of stir-fried vegetables perfectly. The secrets to great tofu are:
1. Buying the right kind of tofu
2. Seasoning and cooking it properly
This recipe is a great one to try if you think you don't like tofu or are on the fence about it. Just take care to follow the preparation directions carefully, the preparation makes all the difference.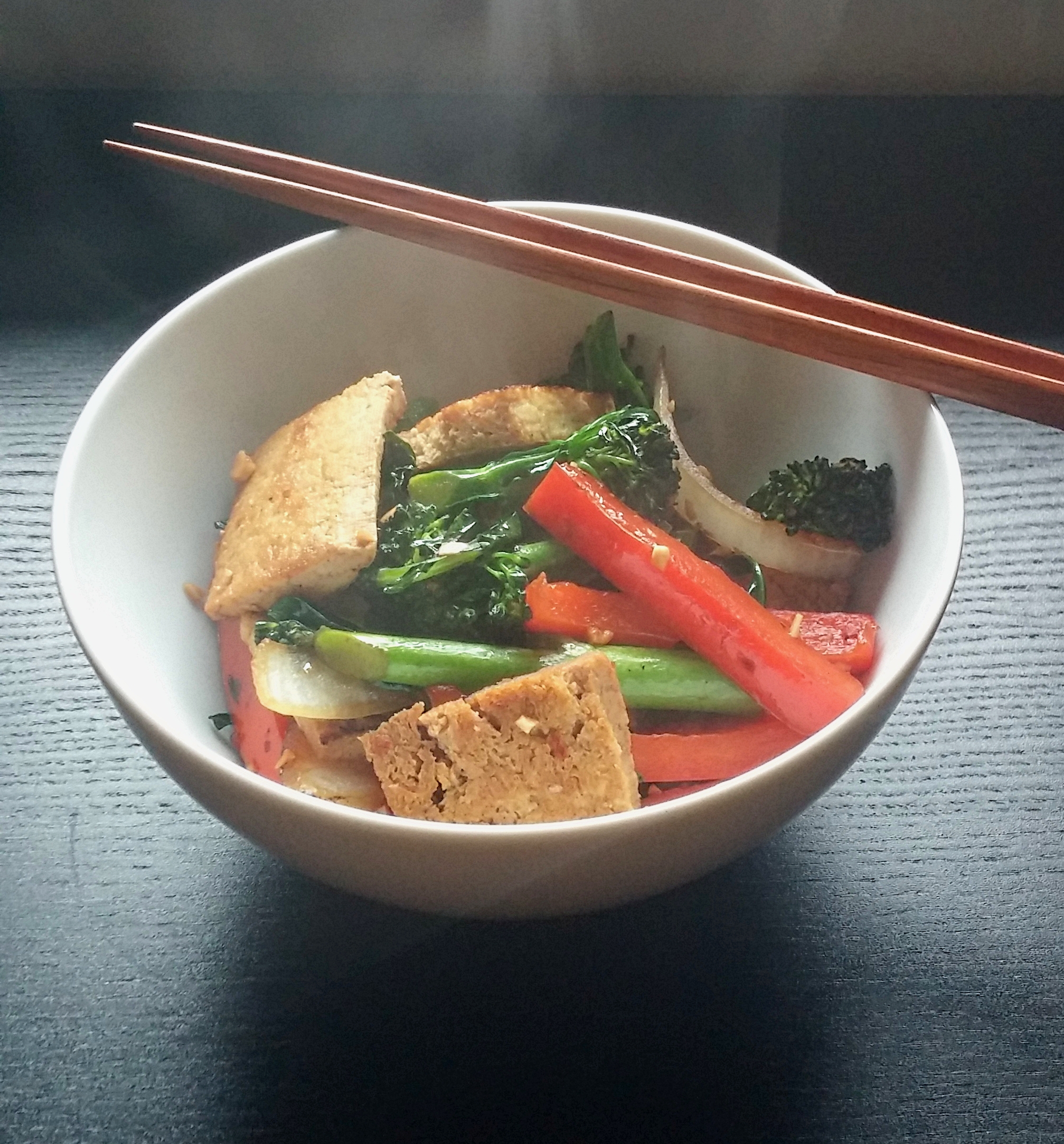 Let's do a quick Tofu 101:
Tofu is made by coagulating soy milk and pressing it to form blocks. The process is similar to cheese-making. In fact, tofu is a great substitute for cheese in vegan recipes, it can be processed into a ricotta-like texture for lasagna and pastas, or can be seasoned and cubed and added to greek salad in place of feta. Tofu is low in calories and fat, and high in protein. It's a healthful addition to any diet.
There are two main types of tofu: fresh tofu and silken tofu. Fresh tofu is found in the refrigerated section of the grocery store and sold packed in tubs of water. This is the kind of tofu that I use 99% of the time. The other variety is silken tofu, which is generally sold in shelf-stable foil-lined paper containers. Silken tofu is unpressed, and has a more silken texture than fresh tofu, which has a chewier and meatier texture. Silken tofu is softer and more like a smooth custard. This type of tofu can be used in sauces, purees and desserts, but is not good for stir fries or as a stand-in for meat.
There are a couple of techniques that you can use for changing the texture of the tofu to make it "meatier" for use in stir fries or sandwiches. You can press the tofu to extract some of the liquid from it, or you can freeze it and then squeeze out the liquid. Freezing tofu changes it's texture from tender to more spongy, and it makes extraction of the liquid easier because you can squeeze it more aggressively than fresh tofu without breaking it apart. Both of these techniques go a long way toward making a wonderful texture. I like the flavor and texture of pressed tofu the best, but freezing the tofu creates a spongier texture and absorbs the sauce a little better. I recommend experimenting with both techniques to determine which you like best.
This dish is super fast to prepare, super healthy, and delicious.
Tofu, Broccoli and Red Pepper Stir Fry
This quick and easy recipe serves 2 generously. Serve with white or brown rice, or without rice for a super light yet intensely flavorful meal. You can easily double this for a larger group.
Ingredients
1/2

package fresh extra firm tofu*

2

cloves

garlic

minced

1/4

cup

soy sauce

1

TBSP

sirracha or chili garlic sauce

or 1 tsp crushed red pepper (to taste)

1

TBSP

rice vinegar

2

TBSP

brown sugar

1

TBSP

water

2

TBSP

peanut oil

1

bunch baby broccoli

stems coarsely chopped and tops cut into florets

1

small red bell pepper

seeded and cut into 1" strips

1/2

small yellow onion

sliced

Cooked white or brown rice for serving

optional
Instructions
Remove tofu from package and drain of excess water. Wrap tofu in a clean tea towel. Place a heavy cast iron pan or a pan weighted with cans or dried beans on top of towel-wrapped tofu and set aside to allow tofu to release it's liquid and become more compressed.

While tofu is being pressed, prepare vegetables and sauce.

Combine garlic, soy, chili-garlic sauce, rice vinegar, brown sugar and water and set aside.

After 10-15 minutes, remove wet tea towel from tofu and slice into 1/2 inch thick slices. cut slices in half yeilding ~2" pieices of tofu.

Heat peanut oil in a heavy cast iron pan on high heat.

Pat tofu pieces dry and add to oil. Be careful when adding tofu to pan, the tofu still contains a lot of moisture and is likely to splatter when added to the hot oil.

Allow tofu to cook undisturbed in pan for ~2-3 minutes until it is browned.

Using tongs, flip tofu pieces and add soy sauce mixture to pan and reduce heat to medium.

After ~2 minutes, remove tofu from the pan and set aside, leaving some of the sauce in the pan.

Add onions and peppers and cook for ~2 minutes.

Add broccoli and cook for another 2 minutes until broccoli is tender.

If pan becomes too dry, add another 1-2 TBSP of water to deglaze.

When broccoli is tender, return tofu to pan and toss to combine.

Serve immediately as a light meal or with white or brown rice as an entree.
Notes
*I like buying tofu in the split packages since I am usually only cooking for 2-3. You can use half the package without even opening the other half.