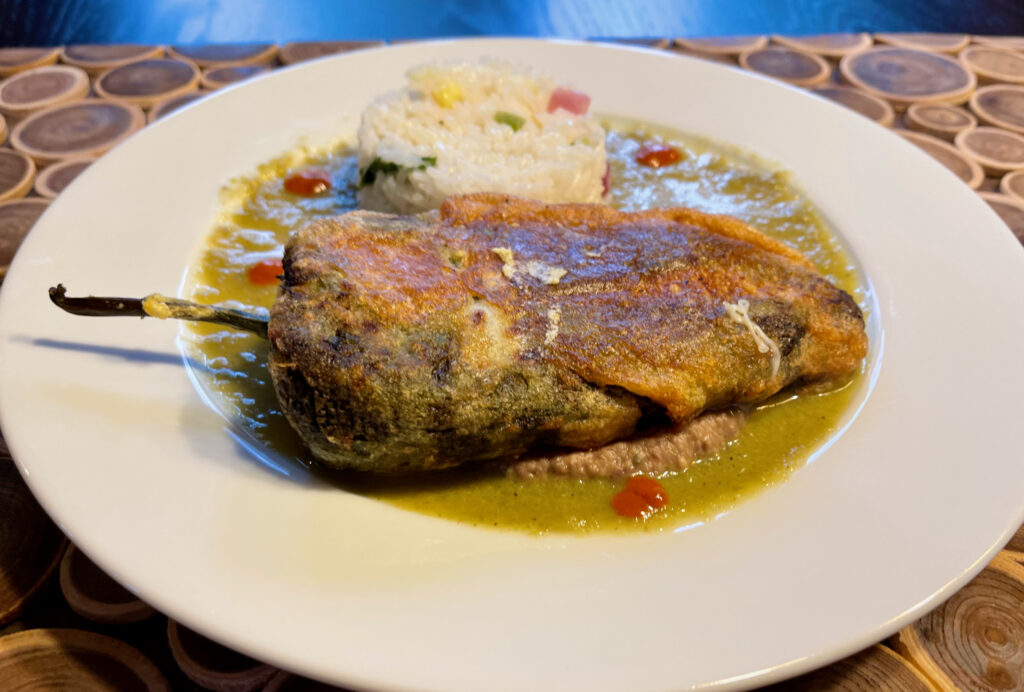 My husband and I are big fans on the web series Hot Ones with Sean Evans. If you are not familiar with the series, Evans interviews celebrities and notable personalities while both interviewer and interviewee consume progressively hotter hot sauces. Most of the interviews start out interesting and ultimately deteriorate as the guests experience the effects of hotter and hotter sauces.
We actually decided to try this experiment at home and recorded it as a podcast for posterity. My biggest takeaway from the experience was finding an amazing new hot sauce called Bliss and Vinegar. It is moderately hot, 6200 scoville units if you are counting, and contains strawberries and coconut in addition to red serranos for heat. The fruits add an amazing flavor and complexity to the spicy condiment. It pairs amazingly well with my homemade chile relleno.
Making chile rellenos is no small undertaking, so I save this for a weekend brunch or dinner. In order to create the correct texture in the batter, you need to beat egg whites to form peaks, then fold in egg yolks. I also sought out queso oaxaca for this recipe, because you want a cheese that melts really well and provides a stringy texture like melted mozzarella.
Chile Rellenos
Roasted and stuffed poblano peppers
Ingredients
2

poblano peppers

3

tbsp

diced onion

3

tbsp

diced tomato

1

clove

garlic

minced

1/2

cup

oaxaca cheese

shredded

1/2

cup

pepper jack

shredded

1

egg

separated

salt and pepper

1/2

cup

white flour

seasoned with salt and pepper

1/2

cup

vegetable
For Serving
1/2

cup

prepared enchilada sauce

(I like Fronterra brand)

1

cup

prepared rice

3/4

cup

prepared refried beans

hot sauce

(I like Bliss and Vinegar)
Instructions
Roast poblanos using your oven broiler on high and turning peppers frequently until most of the skin has blackened.

Remove peppers from oven and place them in a covered bowl to allow them to continue to steam so that you can remove the skin.

While the peppers are cooling, saute onions and tomatoes for a few minutes until they are translucent. Add garlic, salt and pepper and saute for another minute.

Remove onion mixture from heat and allow to cool.

Add cheeses to onion mixture and stir to evenly combine.

When peppers are cool enough to handle, gently remove the skin from the peppers. Make a lengthwise slit in the pepper and remove the seeds and membranes. (Don't make yourself crazy getting all of the seeds out. Just try to get out as many as you can. You can also skip this step, it will just change the texture of the cheese filling a bit and make the dish a bit more spicy.)

Gently insert the cheese mixture inside the cavity of the pepper, being careful not to make additional tears in the pepper. Secure the hole in the pepper with toothpicks to hold in the filling.

Using a stand or hand mixer, season the egg whites with salt and pepper and beat them until stiff peaks are formed.

Fold the egg yolks into the egg whites until combined.

Heat the vegetable oil in a frying pan or dutch oven. Use a thermometer to heat the oii to ~350 degrees.

Dredge the peppers in seasoned flour and gently shake off the excess flour, then coat them in the egg mixture.

Gently place the battered peppers in the hot oil and fry for ~2 minutes on each side until they are golden brown.

Remove the peppers from the oil and drain on paper towels.

Serve atop a bed of red or green enchilada sauce with rice, beans and hot sauce.