Disclaimer: There is nothing authentic about this recipe. I'm from Iowa. Although I love Thai food, and one day aspire to make an authentic Pad Thai or Pad See Ew at home, I'm still learning the best and most authentic Thai pantry items and cooking techniques. This is simply a recipe that I made up using Thai flavors.
This dish was created (as many of my recipes are) to help incorporate more vegetables into my veggie-challenged family's diet. It incorporates two of my my favorite techniques: cutting up the vegetables really small so it's hard for them to pick them out, and adding some sweetness. Mango provides the sweetness in this one-dish meal that incorporates leftover rice and Thai flavors like lime, cilantro, Thai basil, and chili. The dish also uses a specialty ingredient: fresh water chestnuts. Don't worry if you can't find them though, you can omit them or substitute canned water chestnuts.
I've included some tofu in this dish, but some prawns or eggs scrambled into the rice could be protein alternatives. This dish is vegan without the fish sauce.
This dish gets results. Only the tofu remained in the bottom of the bowl when I served this. All the veggies were gone. There is still work to be done on the tofu front. We'll get there . . .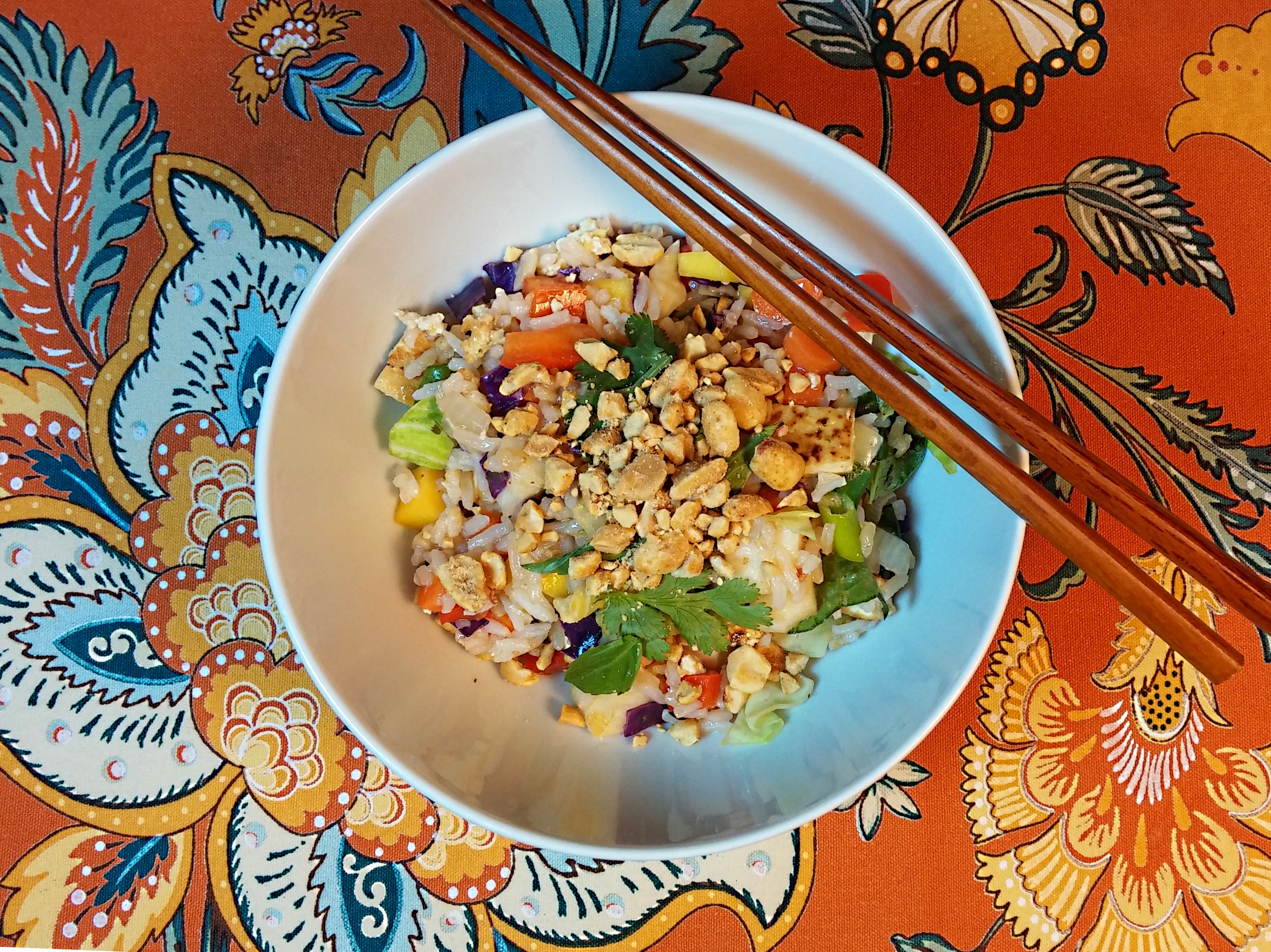 Ingredient Spotlight:Fresh Water ChestnutsA few years ago, I discovered these amazing little gems while shopping at a local Asian market. I had never seen or tasted a fresh water chestnut, so I brought some home and gave them a try. What an eyeopener! Sweet, crunchy, and slightly coconutty, the fresh version bears little resemblance to the flavorless things that come in cans.
I use these in my faux-chicken lettuce cups, in stir fries, and occasionally as a snack. They are well-worth seeking out for any recipe that needs a sweet crunch.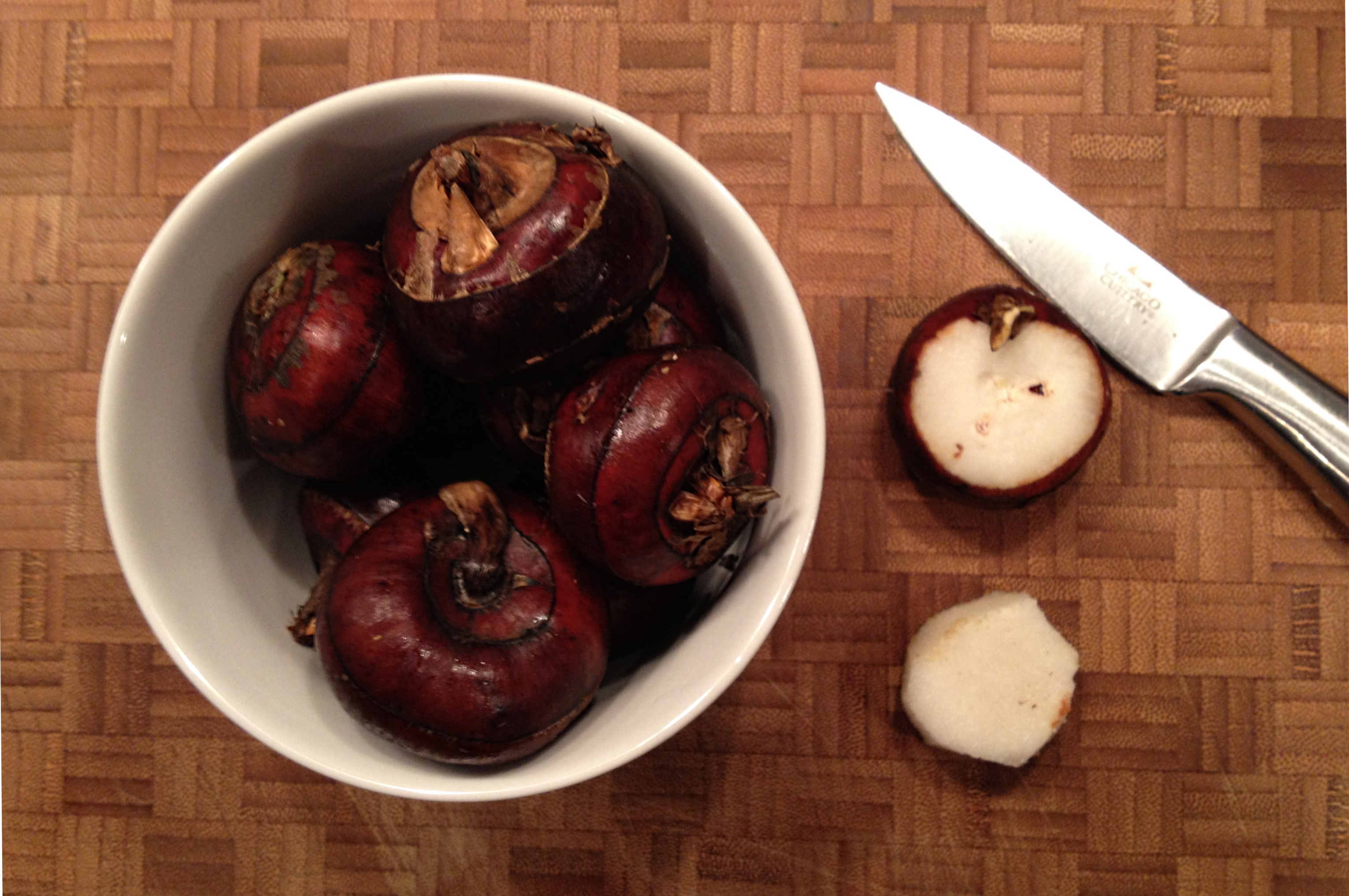 Thai Fried Rice
This recipe uses leftover rice and some traditional Thai flavors to create a delicious and healthy one-dish meal.
Ingredients
juice of 1 lime

1

TBSP

soy sauce

1

TBSP

rice vinegar

1

tsp

fish sauce

optional

1/2

TBSP

brown sugar

1

tsp

sirracha or crushed red pepper flakes

or more to taste

1

inch

piece of ginger

finely minced or grated*

4-5

oz

extra firm fresh tofu

pressed to extract liquid and pan-fried in a little bit of peanut oil**

1

TBSP

coconut

peanut or canola oil

2

cloves

garlic

minced

1/4

cup

onion

finely diced

2

small carrots

peeled and finely diced

1/2

small red pepper

finely diced

1

small serrano chile

minced

6

fresh water chestnuts

peeled and diced

1

small mango

a small champagne mango works well here, diced

1/3

cup

chopped red cabbage

3-4

cups

leftover rice***

1

scallion

thinly sliced

1

handful cilantro coarsely chopped

10

thai basil leaves

torn

1/3

cup

dry roasted and salted peanuts

chopped
Instructions
Combine first 7 ingredients (lime juice through ginger) in a small bowl and set aside.

Heat oil on medium high heat in a very large frying pan or wok.

Add garlic, onion and carrot and cook for ~3 minutes until onion is starting to soften.

Add pepper and chile and cook for another 3 minutes.

Add water chestnuts, mango and rice and stir to combine.

Cook for a couple of minutes until rice is heated through.

Remove rice from heat and stir in lime and soy mixture.

Add scallion, cilantro and basil and serve garnished with peanuts.
Notes
* A tip for working with ginger is to peel it and then freeze it in a plastic bag. Whenever you need ginger, just pull it out of the freezer and grate it using a microplane.
**See here for instructions on the best way to prepare tofu.
*** I used a combination of white jasmine and brown rice. Any leftover rice would work well, just make sure that it's refrigerated and cold prior to putting it in the pan. You could even use frozen rice straight from the freezer.