One of my Sunday rituals is to start the morning with a "bootcamp" workout at my gym, and follow it up with a delicious brunch. Pain followed by pleasure. My husband and I have our handful of favorite brunch spots, but when we aren't feeling like the usual few dishes we gravitate toward, I like to make brunch at home. When I do, I try to incorporate more vegetables than what you find in the usual restaurant brunch or breakfast.
This recipe is unique and delicious. The flavors of the swiss chard and smoked mozzarella, and the richness of the egg make this dish really special. When I made this last weekend my husband called it the best brunch he had ever eaten. Once you have your pizza basics down, it's also very easy to make.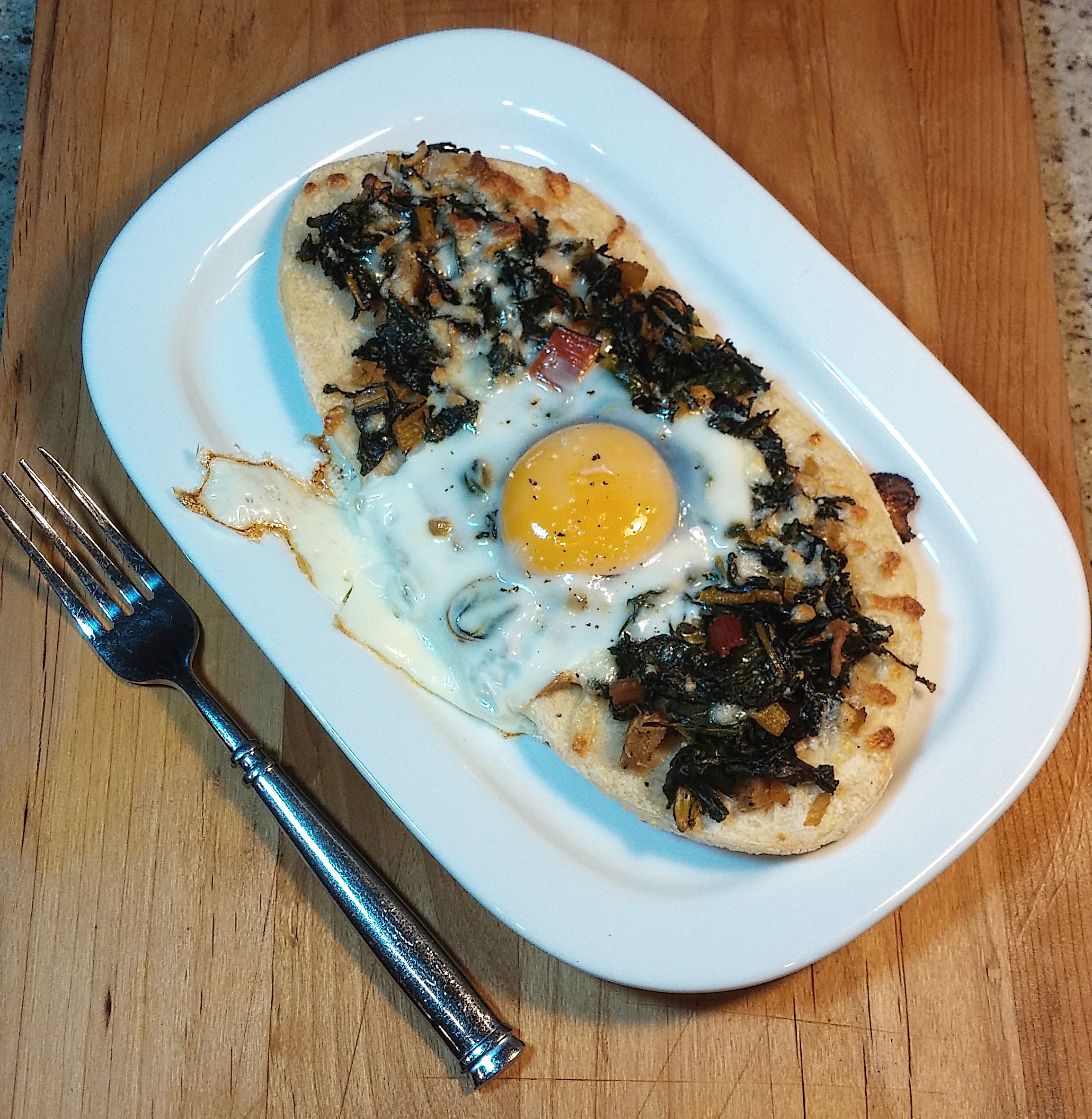 Brunch Pizza With Garlicy Swiss Chard and Baked Egg
A brunch version of one of my favorite pizzas. I make these as individual pizzas, but you could make a single large pizza as well. I use a bit of smoked mozzarella in this dish because I love how it goes with the chard. The egg adds a lot of richness, so I use a modest amount of cheese.
Ingredients
1/4

small yellow onion

finely diced

2

cloves

garlic

minced

1

bunch swiss chard

leaves and stems finely diced

2

TBSP

olive oil

1

batch pizza dough*

1-2

veggie sausages**

crumbled

2/3

cup

shredded mozzarella

1/4

cup

shredded smoked mozzarella

or more regular mozzarella

3

eggs

salt and pepper
Instructions
Place a pizza stone in the oven and preheat oven to 500 degrees (or as high as your oven will go).

Heat 1 TBSP olive oil to medium heat in a large pan.

Add chard stems, onion and garlic and cook for 4-5 minutes until onions and stems are softened.

Working in batches, add chard leaves and allow to cook down until there is room to add more chard. Continue until all chard leaves are wilted and tender.

Season mixture with salt and pepper and set aside.

Divide pizza dough into three equal parts and shape each part into a small round or oblong pizza shape.

Place a piece of parchment on a pizza piel or an overturned large baking sheet and place all three pieces of dough on the parchment.

Transfer the dough to the oven by carefully sliding the parchment off the piel or baking sheet and onto the pizza stone. The parchment paper is oven safe and the dough can be cooked directly on it.

Cook the pizza dough for ~5 minutes, then remove it from the oven by carefully sliding the parchment paper back onto the piel or baking sheet.

Turn each crust over***, and brush remaining tbsp of olive oil on the dough.

Top each pizza with 1/3 chard mixture, 1/3 sausage (if using), and 1/3 cheese.

Crack one egg into a bowl and gently pour the egg onto one of the pizzas. Repeat with remaining two eggs.

Season pizzas with salt and pepper and return to oven (still on the parchment paper).

Cook pizzas for another 5-8 minutes until cheese is melted and egg whites are just set.

Serve immediately.
Notes
* I like the Whole Foods pizza dough (both the whole wheat and the white are great).
**I like Field Roast Italian sausages, but Morningstar breakfast links or patties would work well too.
***This method of par-cooking the dough creates a crispier crust.