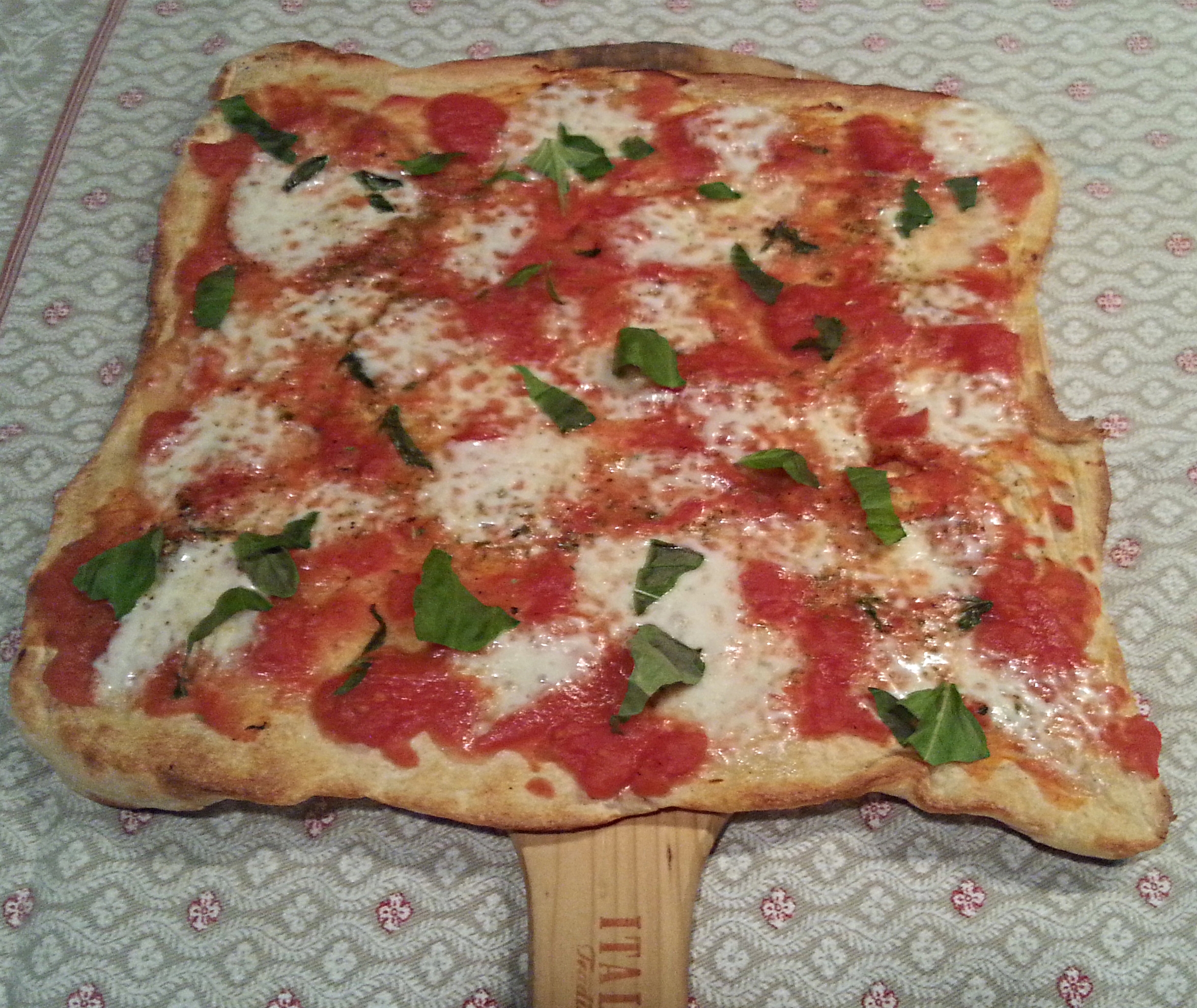 Pizza. I love it. Everyone loves it. And it's a GREAT way to get non-veggie eaters eating veggies. Think of the pizza crust as a canvas for your favorite flavor combinations. Pear and blue cheese, caramelized onions and gruyere, apple, beet and goat cheese, pesto, olives and tomatos. The combinations are endless.
The Basics:
There are a couple of basics that you need to get down, and once you have them, the pizza-making world opens up to you. Consider the following:
1. Equipment
There are a few special items that you need to make great pizzas. First, you need to have a pizza baking stone. I have had a few, they kept breaking until I got this one. It's amazing and has lasted for ~9 years.
Next, you need a pizza peel. There is simply no better way to get raw or cooked pizza around the kitchen and in and out of the oven. For me, there is no substitute for unfinished wood. Unfinished wood provides a great surface (with a little flour) for uncooked pizza dough. Even better, the unfinished wood absorbs the stream from cooked dough, so your crust doesn't absorb the steam and become less-than-perfectly crisp. Bamboo and metal are simply not as good. Here is a good one to try.
2. Dough
You need to find your go-to pizza dough. I highly advise against the shelf-stable, the mixes, and the the stuff in the refrigerated tubes. (Though I have been known to tear into a package of Boboli crust in a pinch.) The good stuff is actual dough – an actual ball of pizza dough, found in the refrigerated or in the frozen section of the grocery store (or purchased from your favorite local pizzaria). You let it come to room temperature and stretch, roll and pull it into shape. For me, you can't beat the Whole Foods packaged dough. Here is another one that I love that is local to Seattle. Trader Joes also makes an excellent tasting dough, but I have found that it is MUCH more difficult to work with (very sticky). If you are new to working with dough, opt for Whole Foods refrigerated dough.
3. Method
I have a specific method for working with pizza dough that I find yields an excellent result. The crust ends up crispy on the outside and chewy on the inside. Perfection. The secret is placing the raw dough on your pizza stone at the highest temp your oven will allow, and cooking until it is lightly browned on the bottom. Then, you remove the crust from the oven and flip it over so that the browned side is on top. Top the browned side of the pizza with your sauce, veggies and cheese, then return it to the oven to finish cooking. Genius. You can also rub the browned side of the crust with cut or smashed garlic cloves before topping it to add a garlic flavor and fragrance to the crust.
I like this cooking method because it allows me to rub the crust with garlic and use sauces that might be more difficult to spread evenly, like pesto. If this seems like a lot of steps to you, you can always top the raw dough and cook it without the remove and flip step. If you use this approach, I recommend raising the rack in your oven so that it is closer to the top of the oven. This will prevent the bottom of the crust from cooking more quickly than the top.
Now that you have the basics down, let's get creative!! Here are some of my favorite veggie pizza combinations. Many of these are excellent prepared vegan as well.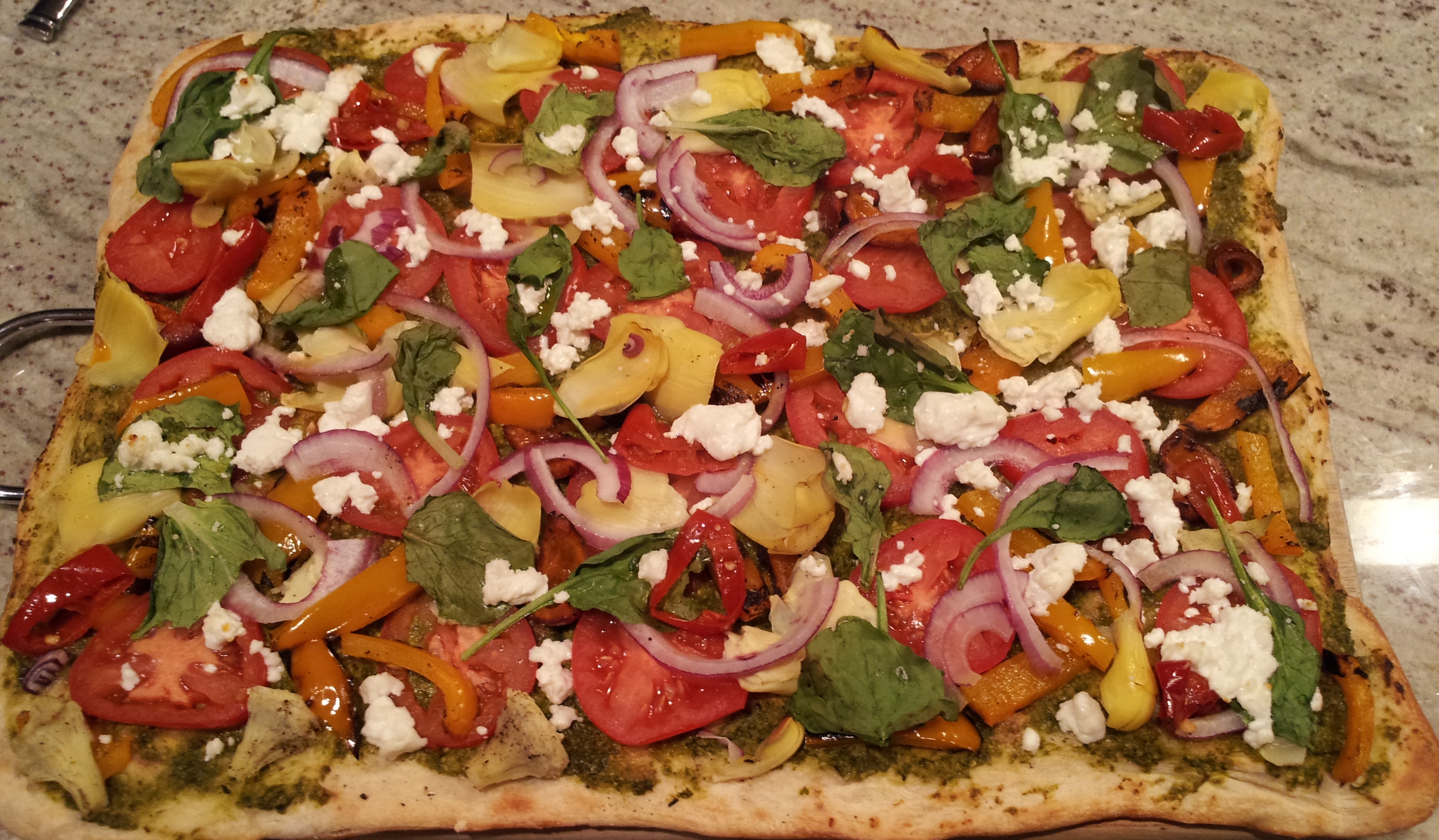 Veggie-Loaded Pesto Pizza
2013-10-15 15:59:07
This a healthy pizza loaded with tons of veggies. It makes a great one-dish meal. With all of these veggies I don't even make a salad when I make this. This is also a great vegan pizza if you omit the cheese.
Ingredients
1 package of frozen for refrigerated pizza dough
1/2 cup vegan pesto or prepared pesto
1 large clove garlic
An assortment of your favorite veggies such as
- halved cherry tomatoes or thinly-sliced roma tomatos
- grilled zucchini
- grilled eggplant
- artichoke hearts
- grilled peppers
- spinach or arugula leaves
- thinly sliced red onion
- kalamata olives
- pickled or oil-packed peppers
1/2 to 1 cup crumbled goat cheese or mozzerella(optional)
Instructions
Preheat oven to 500 degrees or according to the directions on your pizza dough or crust.
Prepare pizza dough using my method above or according to package directions.
If using my flip method, rub par-cooked pizza dough with garlic clove.
Spread pesto on pizza dough.
Top with vegetables and cheese (if using)
Bake at 500 degrees until dough is cooked, cheese is melted and toppings are heated:~ 5-12 minutes.
NomAppetit.com http://www.nomappetit.com/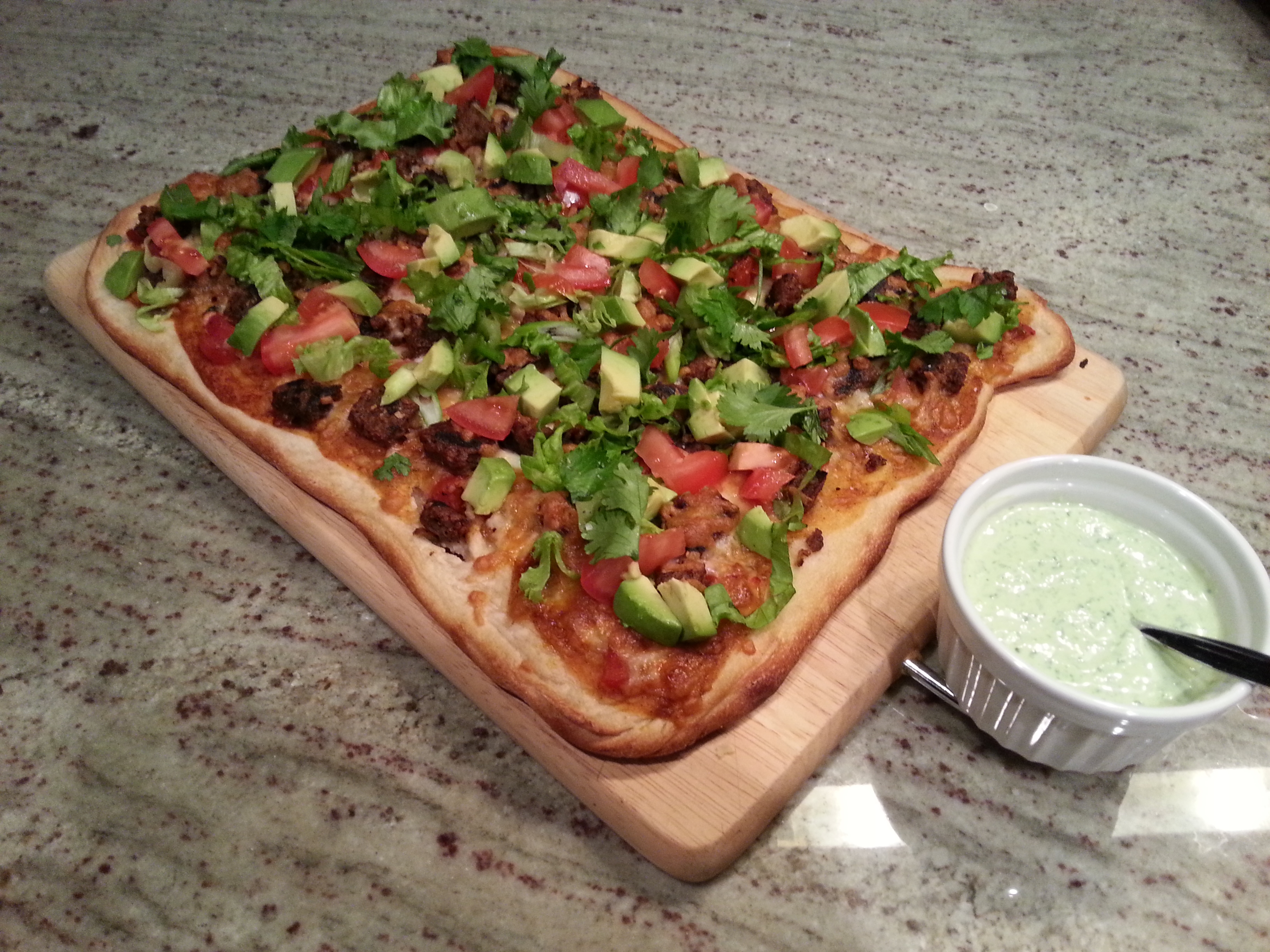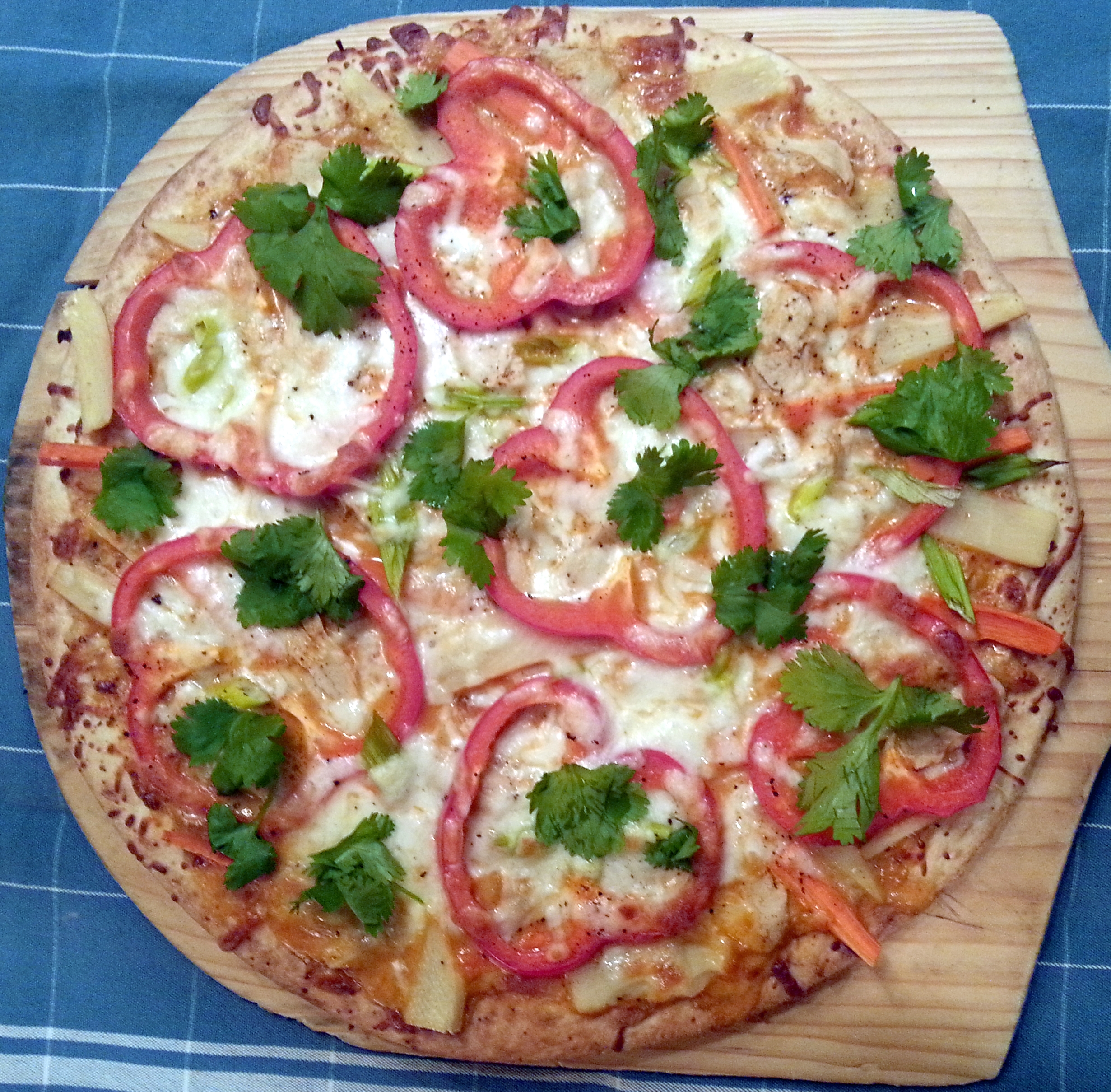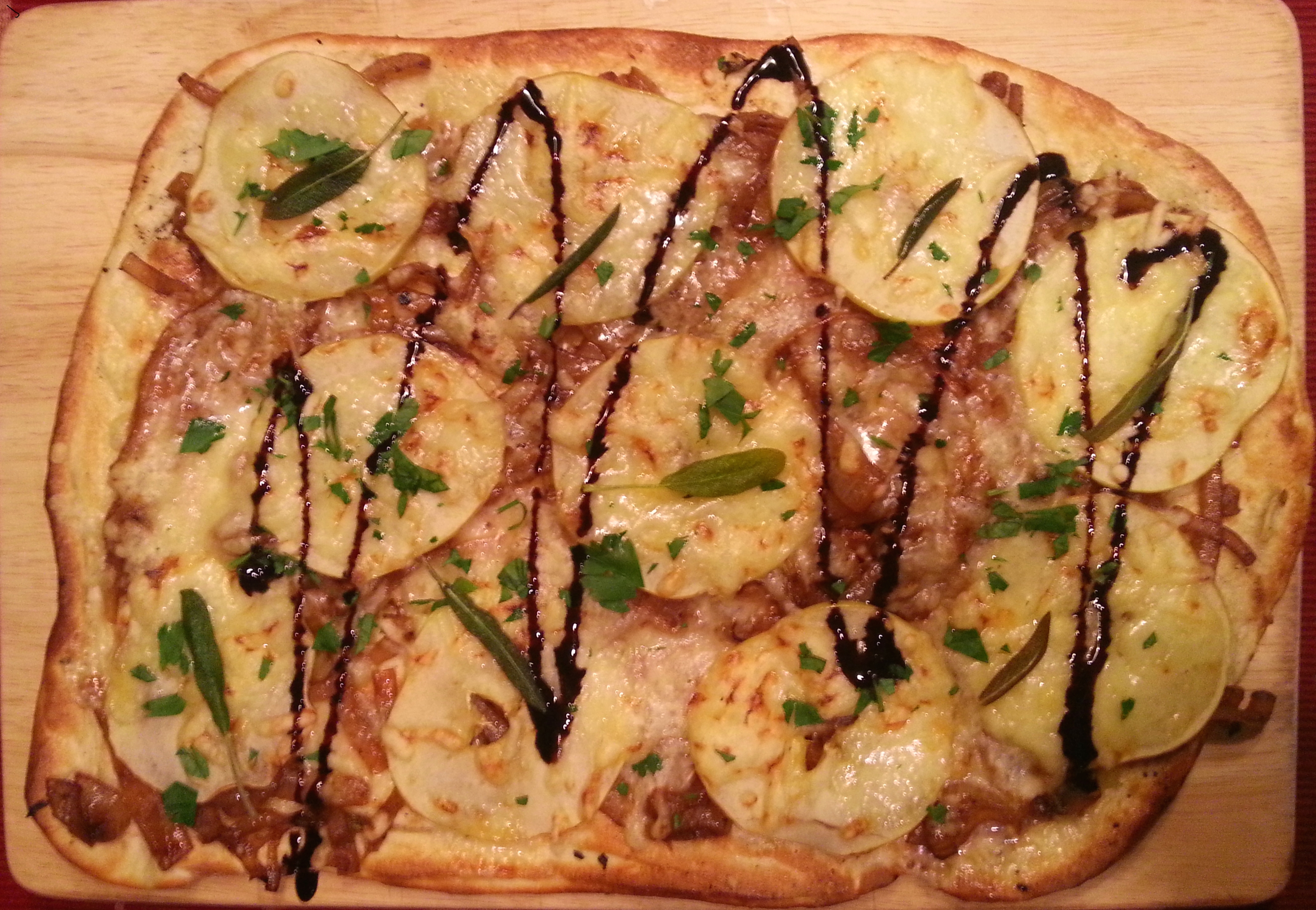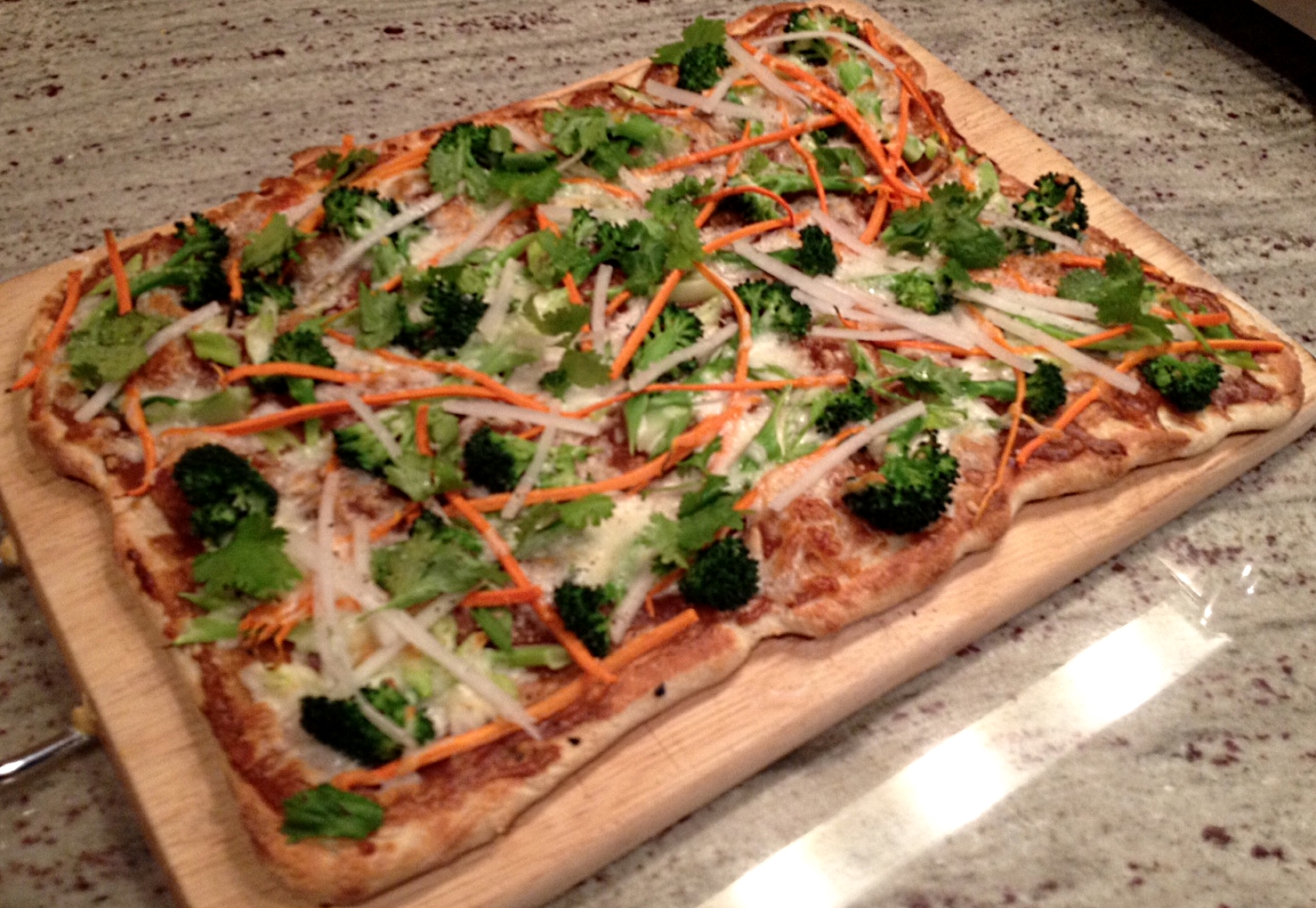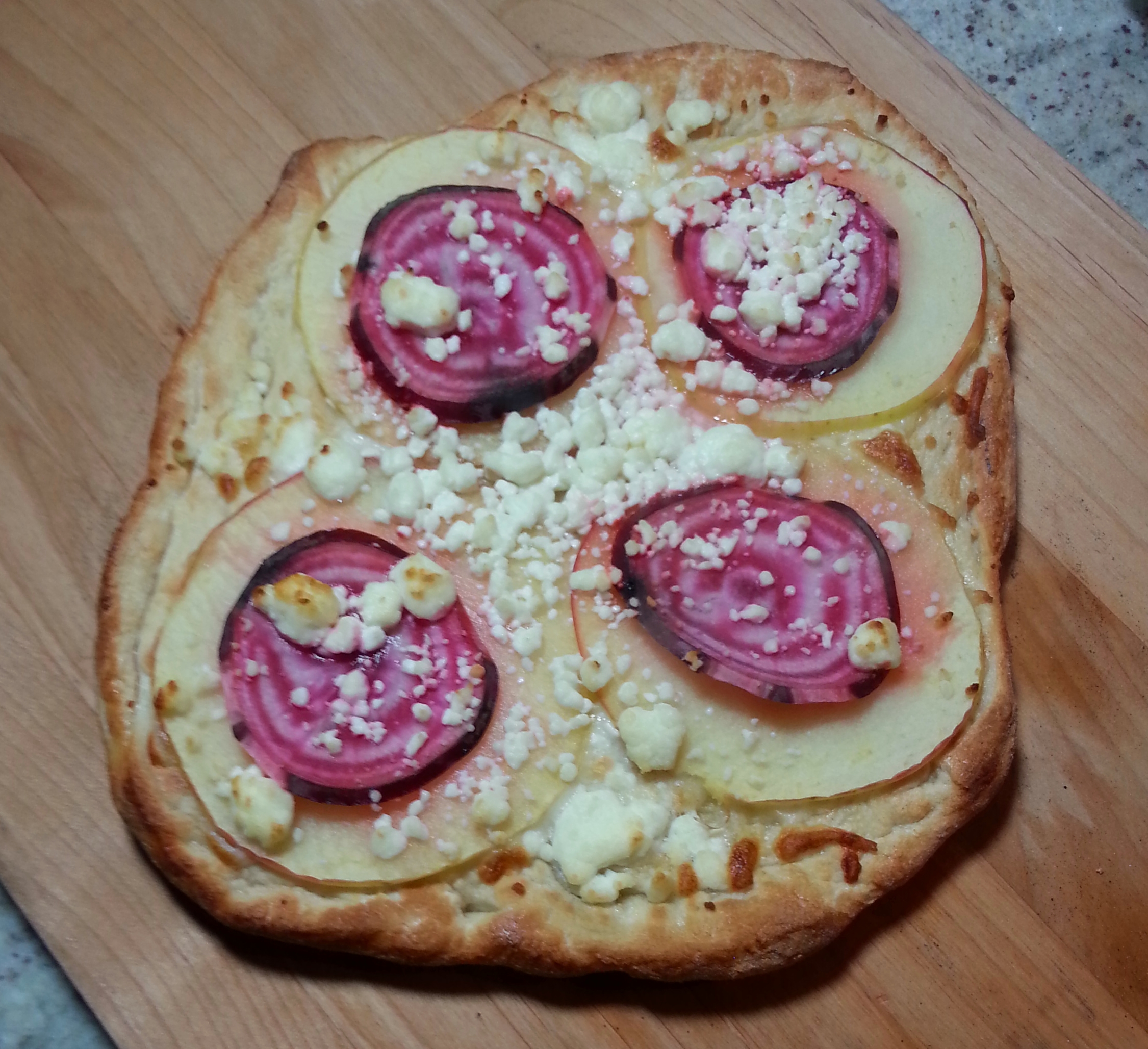 This pizza is a delectable way to use winter greens.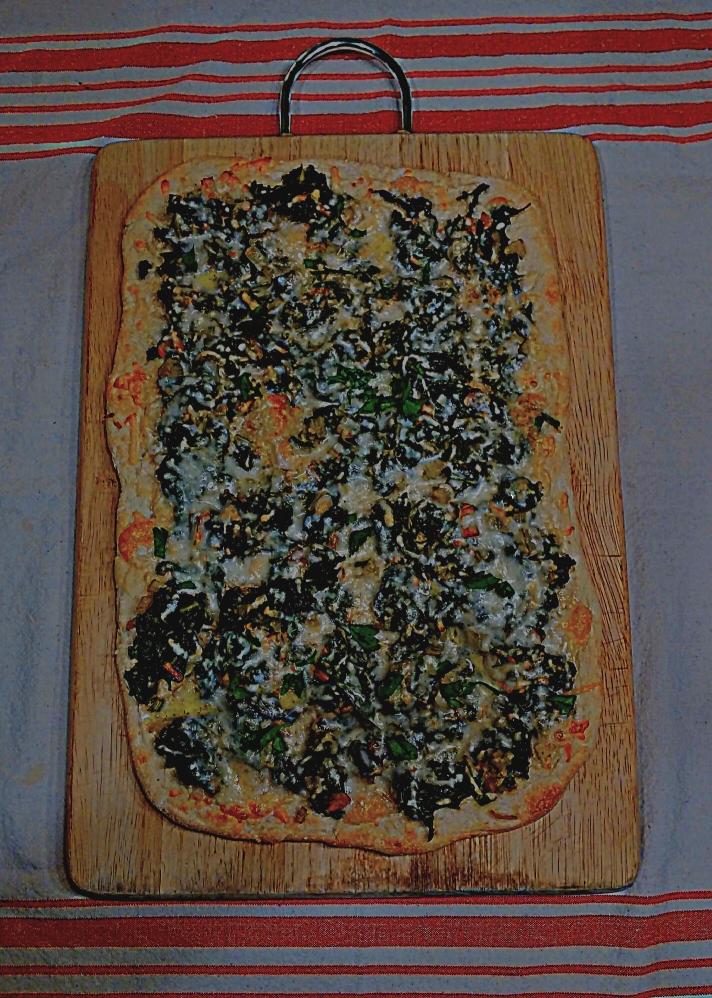 Finally, the classic Italian-style thin crust pizza: