When I wrote about eggplant rollatini a few weeks ago, I suggested that even those that don't think they like eggplant should try it. I forgot about this recipe when I wrote that post. This is the true beginners eggplant recipe. Although this soup is chock-full of eggplant, it doesn't possess a single characteristic that non-believers tend to associate with eggplant. It's not spongy OR mushy (which are both often-invoked textural complaints) nor it is the slightest bit bitter (the primary taste complaint).
This soup is rich, smokey, and intensely flavorful. Make this vegan (but still completely amazing) by omitting the dairy and topping with delicious homemade croutons.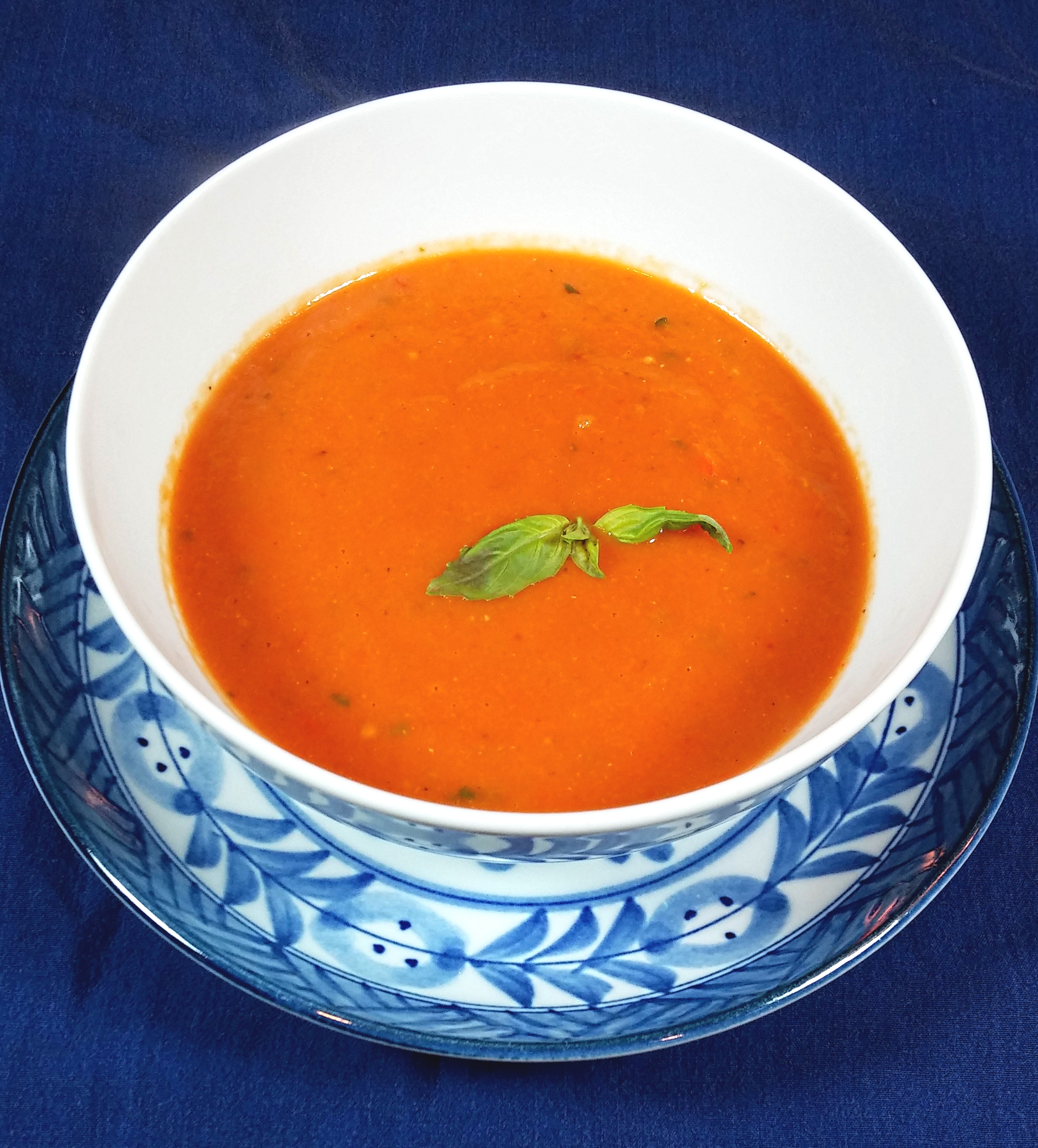 Roasted Eggplant and Red Pepper Soup
This hearty and healthy soup is intensely flavorful. Omit the cream and the soup is vegan.
Ingredients
2

medium red bell peppers

cut into large pieces

1

medium eggplant

cut in half lengthwise

2

TBSP

olive oil

divided

3

cloves

of garlic

salt and pepper

1/2

small yellow onion

finely diced

2

TBSP

tomato paste

4

cups

vegetable broth

1

TBSP

oregano

1/2

TBSP

marjoram

1/2

cup

cream or half and half

optional

2

TBSP

torn basil plus more for garnish
Instructions
Preheat oven to 425 degrees

Brush cut sides of eggplant and pepper pieces with 1 TBSP olive oil, season with salt and pepper and arrange vegetables skin side up on a baking sheet.

Place unpeeled garlic cloves on baking sheet.

Place baking sheet on the top rack of the oven and roast for 12 minutes.

Remove garlic from the baking sheet, and allow peppers and eggplant to cook for another ~10 - 15 minutes until eggplant is softened and pepper skins are charred. (If pepper skins are not yet charred, you can remove the eggplant from the baking sheet, turn the oven to broil, and char the pepper skins that way.

When eggplant and peppers are cooled, remove the charred skins from the peppers and discard so that only the flesh is remaining.* Scoop the eggplant flesh out of the skins and discard the skin. Peel the garlic and set aside with eggplant and pepper flesh.

Heat 1 TBSP of olive oil in a large soup pot or dutch oven on medium heat.

Add onions and cook for ~5 - 8 minutes, until softened and starting to brown.

Add tomato paste to pan and cook for another 2 minutes.

Add vegetable broth, pepper and eggplant flesh, and roasted garlic to pan and bring to a boil.

Add oregano and marjoram and season to taste with salt and pepper.

Allow mixture to boil for 5-10 minutes, then remove from heat and add cream (if using) and basil.

Using an immersion blender, puree soup to a smooth and uniform consistency.

Serve garnished with fresh basil.
Notes
* Don't sweat this step too much. If you can't get some of the skins off the peppers it's not a big deal because you are going to puree the soup anyway.