Monday Night Football screams for junky food. This pizza is just junky enough. All of the flavors of buffalo chicken wings, but but meat-free and with a lot less fat and cholesterol. Plus there is plenty of blue and green on it. Go Seahawks!
If you want to prep this in advance so you don't miss any of the game, prep it up until the final 5 minutes in the oven, then put it in the oven during a commercial or halftime.
Serve this with a salad or a veggie tray with a healthy dip like hummus, baba ganoush, or tatziki.
For a full pizza 101, visit this post.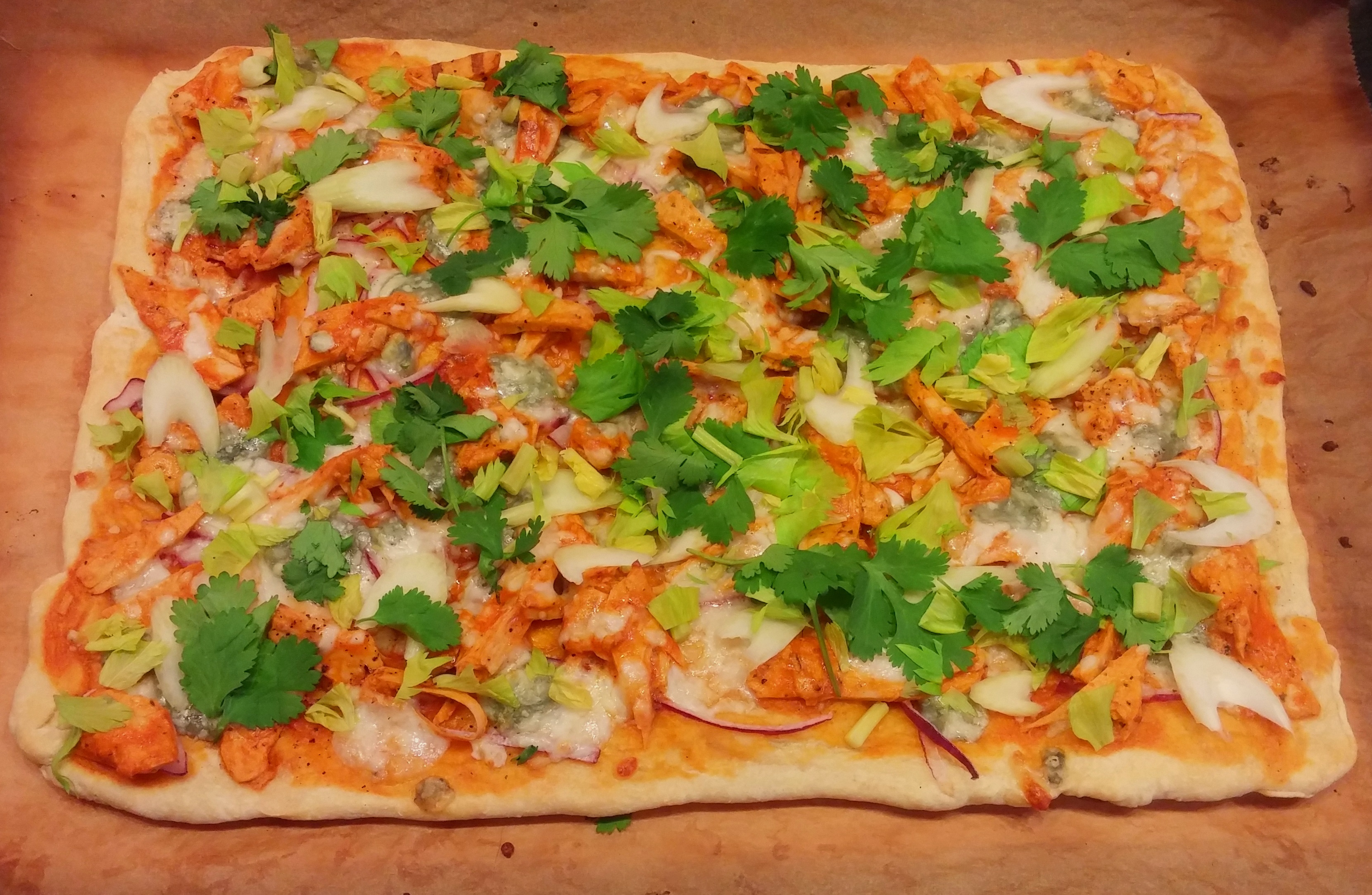 Buffalo "Chicken" Pizza
All of the flavors of buffalo wings in a vegetarian pizza.
Ingredients
1 1/2

cups

shredded "chicken"*

1/2

cup

buffalo wing sauce

divided

1

package pizza dough**

1/3

cup

red onion

thinly sliced

1/2

cup

shredded mozzarella

1/3

cup

crumbled blue cheese

salt and pepper

1

stalk celery

thinly sliced

1/4

cup

cilantro

chopped

1/4

cup

celery leaves

chopped
Instructions
Toss "chicken" with a few tablespoons of the sauce and set aside.

Preheat oven with pizza stone to 500 degrees.***

Stretch your dough as large as you can to get a thin crust. You may need to shape your pizza into the shape of your stone to create a large pizza that fits.

Prick dough with a fork to prevent air bubbles, and lay stretched dough on parchment paper and place in oven.

Cook dough until lightly browned on bottom, about 5 minutes.

Remove dough from oven and turn over, so that the bottom of the dough is now the top.

Spoon remaining buffalo sauce on dough.

Sprinkle onions and chicken evenly across the dough and season lightly with salt and pepper.

Top with mozzarella and blue cheese and place back in oven (still on parchment paper).

Cook until cheese is melted and bubbling.

Remove pizza from oven, sprinkle with celery, celery leaves, and cilantro and serve.
Notes
* I like Beyond Meat grilled chicken strips. They contain better ingredients than most of the meat analog prooducts and they have great texture. They taste pretty good too (though they will smothered in wing sauce in this dish). My dog comes running when I open the package like it's the real thing - she loves them.
**I like Whole Foods refrigerated pizza dough (found in the prepared foods section).
***If you don't have a pizza stone, you can use use a large baking sheet. Turn it upside down and heat it in in the oven while you are preheating.