This vegan soup is a wonderful, healthy, low calorie and low fat meal that is a great antidote to holiday indulging. The soup is delicious on its own, but what really takes it to the next level is serving it with a selection of different toppings/ condiments on the side. You can serve this soup year-round; in the summer I take advantage of fresh corn, in the winter I use hominy instead of corn.
If you aren't familiar with hominy, it is corn that has been soaked in an alkali solution, which causes it to swell to 2-3 times it's normal size. The flavor of hominy is not as sweet as fresh corn, it tastes more like the corn flavor in a corn tortilla or a tortilla chip: slightly sour and more mineraly than fresh corn. The texture of hominy is it's best feature, it has a lovely chewy bite.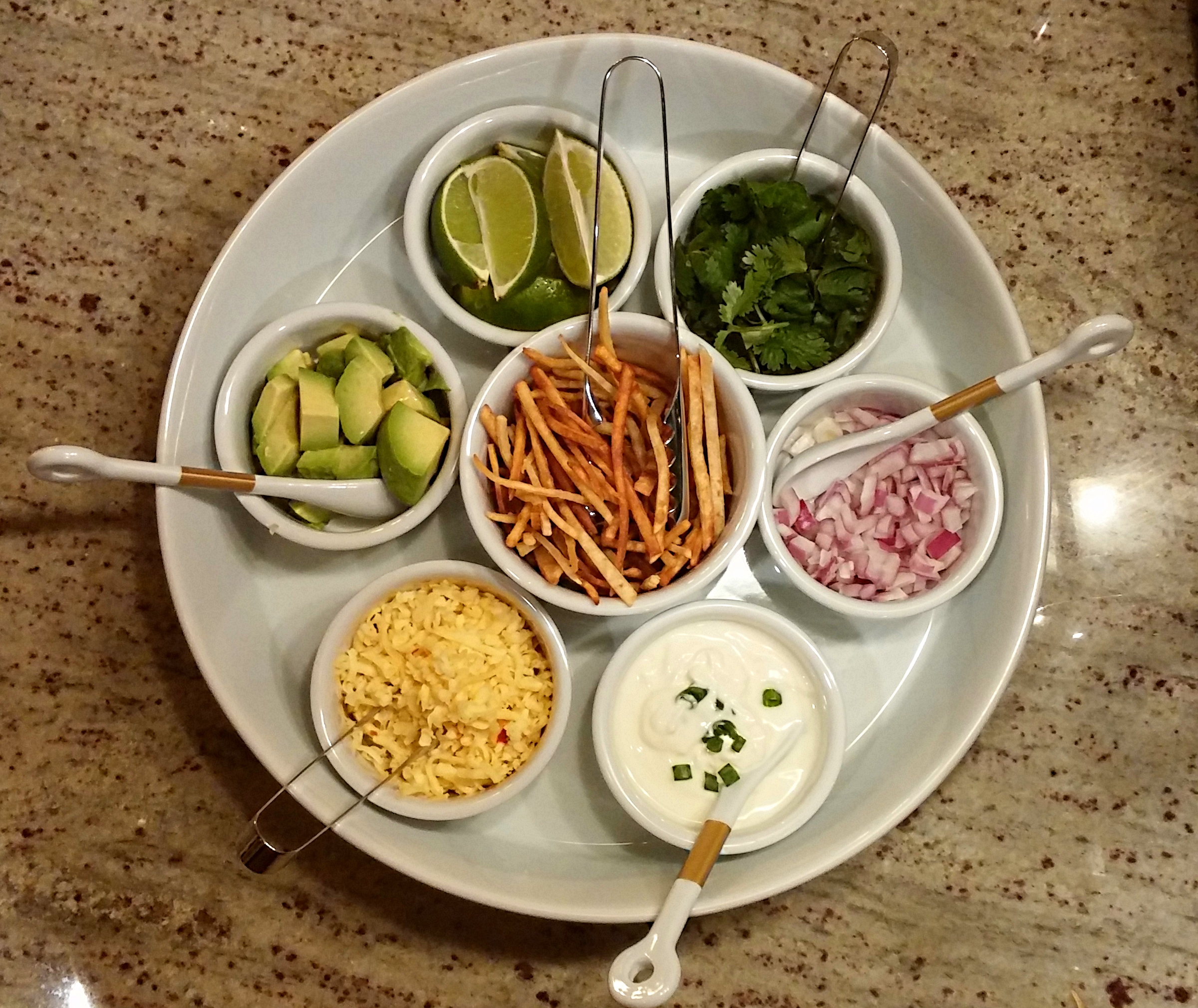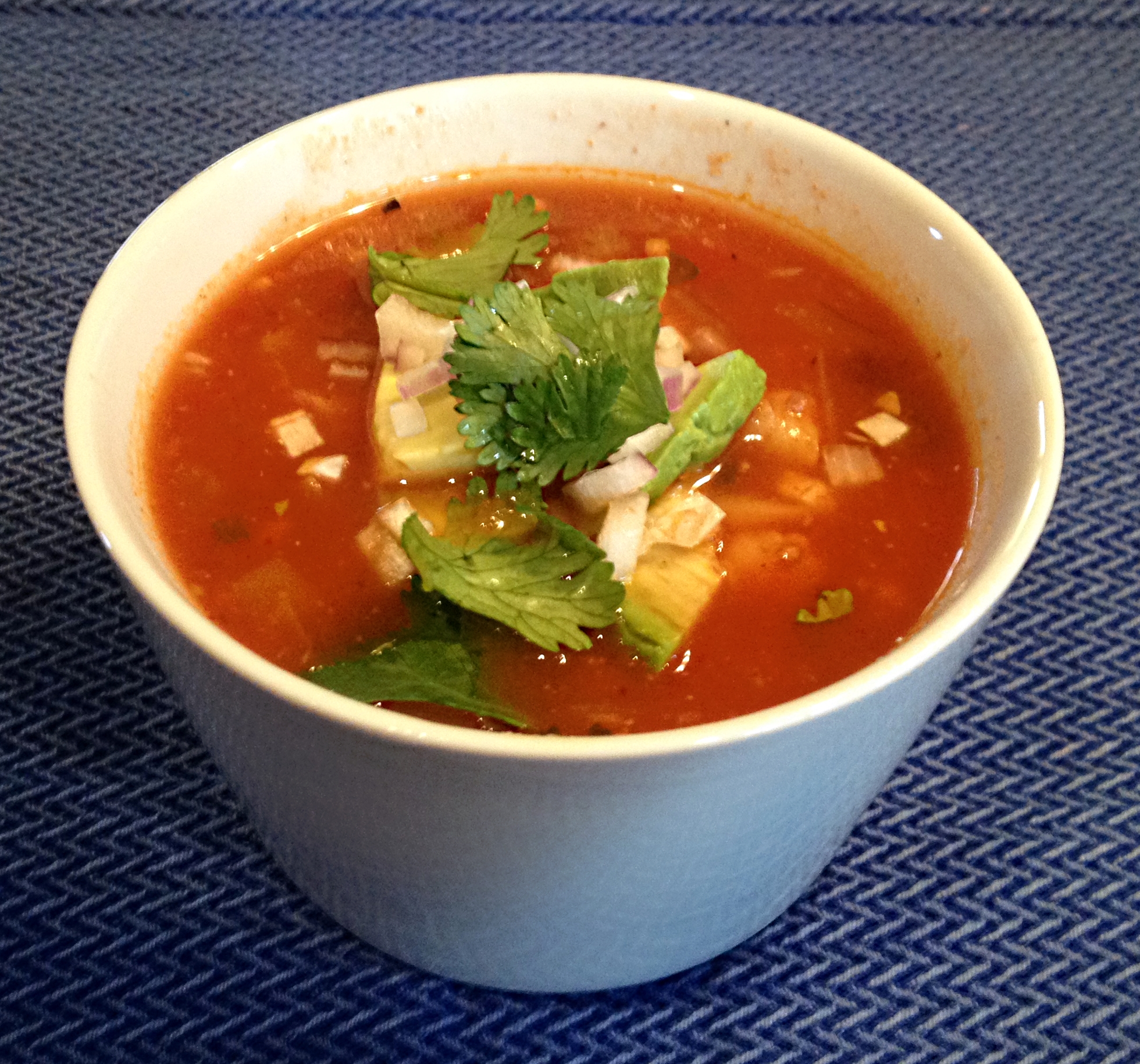 Tortilla Soup
2014-01-01 17:04:47
Serves 6
This soup is a healthy and delicious lunch, dinner or starter course any time of year.
Ingredients
3 TBSP canola oil
1 small yellow onion, finely diced
1/2 green pepper, finely diced
1/2 yellow, orange or red pepper, finely diced
1 jalepeno, serrano, or fresno, seeded and minced (optional)
3 cloves garlic, minced
1 TBSP of cumin
1 tsp oregano (preferably Mexican oregano)
1 1/2 TBSP of ancho chile
2 tsp chile de arbol (optional)
1 20oz can of diced tomatoes (fire roasted tomatoes are great in this)
5 cups vegetable broth
1/2 zucchini, finely diced
3/4 cup corn (fresh or frozen) or hominy
2 TBSP cilantro, chopped
1/2 lime, juiced
Optional Protiens*
10-12 oz cooked beans (black, pinto, garbanzo, etc.) or 2 oz per serving
10-12 oz cooked and shredded chicken or turkey or 1-3 oz per serving
10-12 oz cooked and chopped shrimp or 1-3 oz per serving
10-12 oz cooked lean ground beef or bison or 1- 2 oz per serving
Optional Toppings
crumbled tortilla chips
minced red onion
diced avocado
chopped fresh cilantro
fried tortilla strips
diced fresh tomato
sour cream
shredded pepper jack or cheddar cheese
crumbled cotija cheese
shredded lettuce
pickled jalepenos
lime wedges
Instructions
Heat oil to medium high heat in large soup pot.
Add onion, bell peppers, and jalepeno (if using) and sautee for ~5 minutes until vegetables are softened.
Add garlic, tomato paste, cumin, oregano and ancho and sautee for another 2 minutes.
Add tomatoes (including juice) and broth and bring to a simmer.
Simmer for 10 minutes, then add zuchinni, hominy, and black beans and simmer for 10 more minutes.
Remove soup from heat and stir in lime juice and cilantro.
Serve with optional toppings of your choice.
Notes
*To make this soup customizable to multiple diets, I have provided protein measurements for individual servings and for the entire batch, depending on your preference.
NomAppetit.com https://www.nomappetit.com/