Matzo ball soup is a traditional Ashkanazi Jewish dish made from a meal of matzo, the traditional unleavened bread eaten during Passover. Traditionally, the matzo meal is combined with eggs, and "schmaltz" (chicken fat) and cooked in a chicken stock with vegetables. My version is vegetarian with an amped-up amount of herbs.
Winter is soup season, and this one is a crowd-pleaser. If you haven't tried making matzo ball soup, you should. It's delicious and couldn't be easier. When paired with a salad, it makes a great weeknight dinner.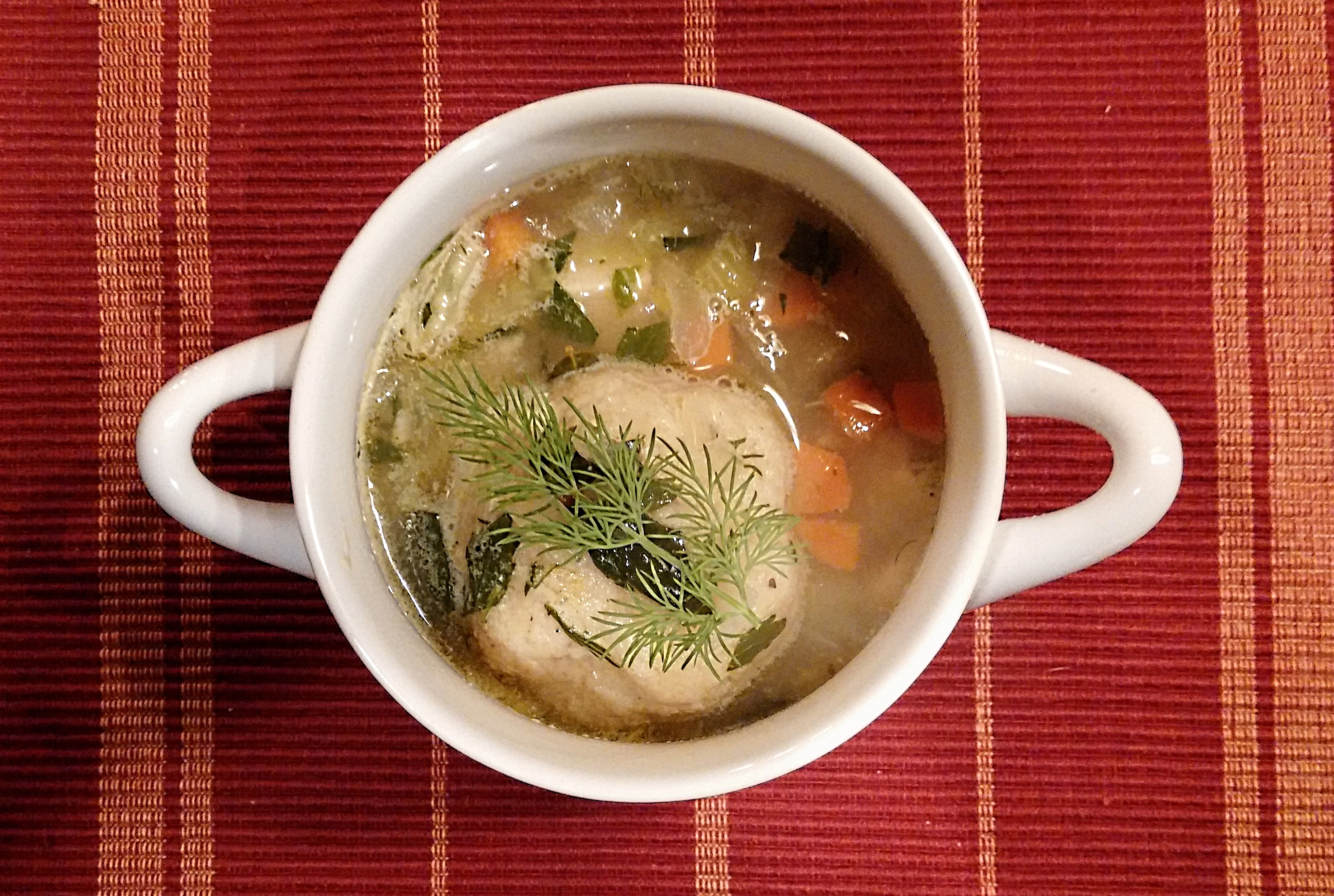 This recipe contains eggs, so it's probably time for me to say a few words about eggs. Commercially produced eggs are hands-down the most inhumane thing that you can purchase and eat. Egg laying hens are the most abused animals in America. I went for years without eating eggs in light of this fact.
Even eggs sold as "cage-free" are produced using incredibly inhumane processes.
Recently I became familiar with Vital Farms, an Austin-based company that takes a truly humane approach to egg farming. The eggs are sold at Whole Foods, and they are the ONLY eggs that I buy. In addition to being produced humanely, they are also more flavorful other supermarket eggs. The yolks are bright yellow-orange. These eggs are more expensive than regular supermarket eggs, but well worth it.
Although I have resumed the use of eggs in my cooking, I definitely use them sparingly. They are by no means health food. They are loaded with cholesterol, so I try not to indulge in more than 2 per week.
Vegetarian Matzo Ball Soup
A vegetarian version of the classic.
Ingredients
1

package matzo ball mix

I like Manischewitz's product.

2

eggs

beaten

2

TBSP

canola oil

salt and pepper

1

TBSP

margarine or butter

1

large carrot

finely diced

1

rib celery

including leaves, finely diced

1/2

large onion

finely diced

1

clove

garlic

minced

1

bay leaf

1

TSP

dried dill

1

TSP

celery salt

1

TSP

celery seed

5

cups

vegetable broth

2

TBSP

flat leaf parsley

finely chopped

2

TBSP

fresh dill

finely chopped

salt and pepper
Instructions
Combine matzo meal with eggs, oil and salt and pepper according to package directions and mix to combine. Place combined mixture in the refrigerator to chill while preparing the soup (15-30 minutes).

In a large soup pot or dutch oven, heat margarine on medium heat and add carrot, celery, onion and garlic.

Sautee for 4-5 minutes until vegetables begin to soften. Add bay leaf, celery salt, celery seed and broth and bring to a boil.

While soup is coming to a boil, form matzo mixture into golf ball sized balls. One package of mix should make 4-6 balls.

Drop balls into boiling soup and allow to cook at a simmer, covered for 20 minutes.

Serve garnished with extra dill.