The holidays and winter months are full of rich dishes, so I try to work in some ultra-healthy meals to help mitigate the deluge of potatoes and dairy.
This dish, which I lovingly refer to as a "hippie bowl", is an ultra low calorie and high fiber antidote to holiday splurges. While you could make this with any kind of noodles and it would still be a wonderfully healthy dish, what makes this ultra-low calorie is the use of shiritaki noodles.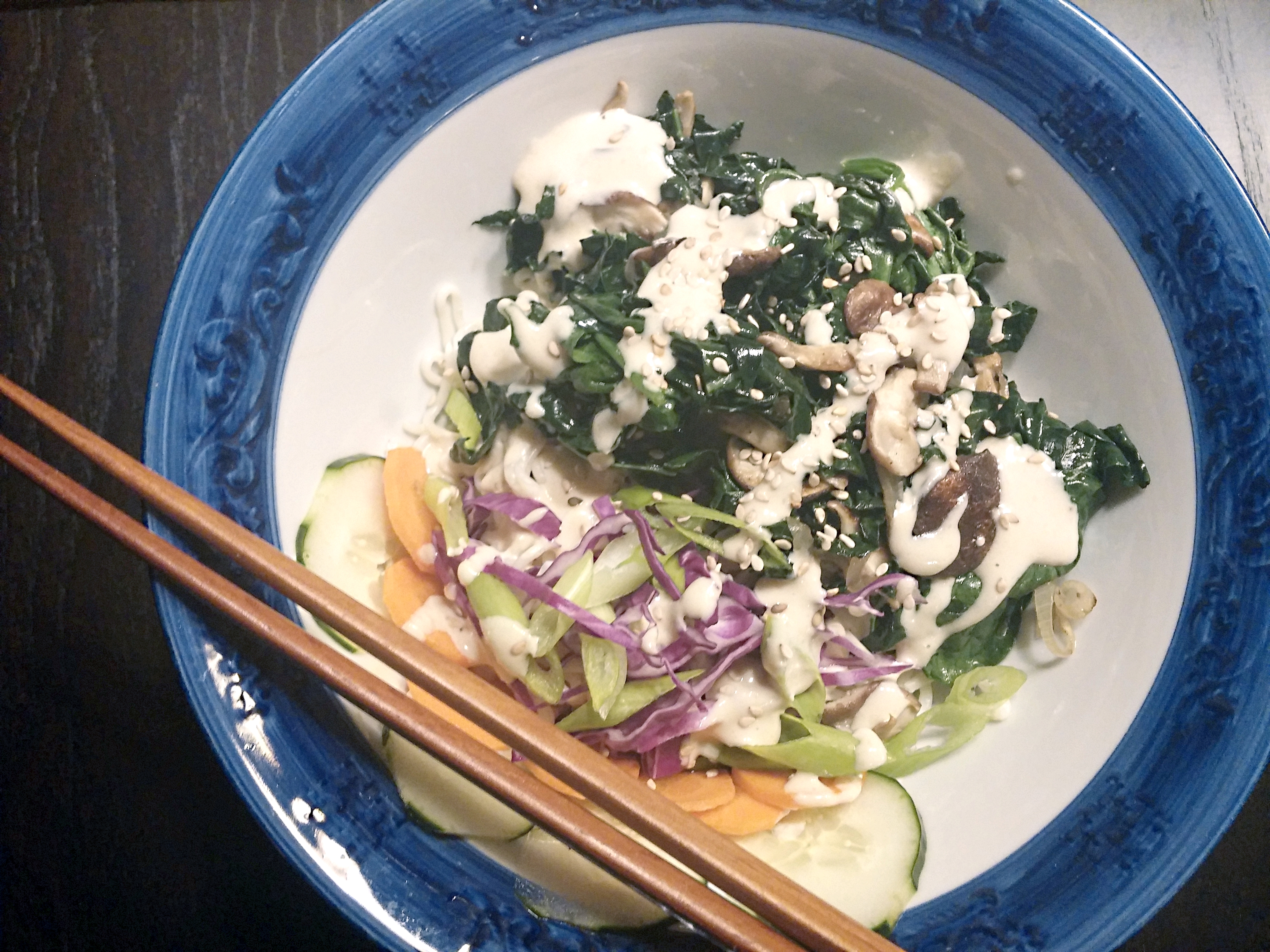 Shiritaki noodles are a traditional Japanese noodle made from a yam that is very low in calories and high in soluble fiber. Many varietys also contain a small amount of tofu as well. The noodles can be found at Whole Foods, and also many other supermarket chains. They are typically in the same section as refrigerated tofu. They come packed in liquid in plastic bags. The bags each contain one large serving of noodles (about a cup and a half). The entire serving of the tofu variety contains only 20 calories, 3 grams of carbs, 2 grams of fiber, and 0 grams of fat. The noodles are gluten free and vegan. Obviously, this is a huge improvement over calorie and carb-loaded pasta. They are also very quick and easy to prepare once you know a few basics. I'll get to that shortly.
These noodles sound amazing, right? But before you run out and invest in yam futures let me be the first to tell you that the noodles are NOT a great substitute for pasta. The texture of the noodles is nothing like pasta. You can certainly top the noodles with your favorite pasta sauce (and I have), but you will likely walk away from the table feeling a little disappointed. The noodles have a gelatinous texture, and they don't hold onto sauce like pasta. In my opinion, they are much better suited to Asian-inspired soups and noodle bowls. The recipe below is my favorite way to prepare them.
Preparing Shiritaki Noodles:
There are some basics that you need to know prior to cooking with shiritake noodles. First, you need to rinse them well. The water that they are packed in has a somewhat unpleasant smell, so you want to make sure that you get all of it off the noodles. Some people also drop them into boiling water for a few minutes as a way of making sure that all of the packaging water is gone.
From there, I recommend dry-frying the noodles in a hot non-stick pan to dry them out a little and make them a little less gelatinous. Just put them in a dry pan over medium high heat for a few minutes. After the dry-fry, they are ready to use.
The Hippie Bowl Dissected:
So what makes up a "hippie bowl"? The concept of "bowls" is common in vegetarian and vegan cooking. A bowl is a simple, healthful meal that typically consists of a grain, a protein (like a bean or tofu), vegetables, and a sauce to tie everything together. The recipe below uses kale and shiitake mushrooms as the key ingredients, but you could use any vegetables that you like. Broccoli would work well. This bowl doesn't happen to include a protein (other than the miso tahini sauce, which is protein-rich), but you could certainly add a protein of your choice. The "grain" in this bowl isn't really a grain, it's noodles. You could substitute a grain like brown rice, quinoa, or millet, but the caloric value of those grains would be more similar to traditional pasta than shiritaki noodles. Those high fiber whole grains are still great healthful options though.
This bowl contains cooked, pickled, and raw vegetables. Pickled vegetables are commonly used in macrobiotic diets (which is another blog post for another time) because they encourage healthy functioning of the intestine and the immune system, promote production of large amounts of probiotic microorganisms and increase beneficial lactobacilli bacteria. All of this sounds great, but what I really love is the sweet/sour note and different texture that they add to the dish.
The real star of this bowl (and any bowl really) is the sauce. The sauce contains miso and tahini which makes the sauce tangy and rich at the same time (kind of like a healthy version of ranch dressing). The flavorful sauce elevates the noodles and simply-prepared vegetables into a delicious dish.
Two amazing ingredients, Miso and Tahini:Miso and tahini are staples in my kitchen. If you haven't tried cooking with them before, I highly recommend it. They are amazing ingredients for sauces, dips and salad dressings. Here is some background on these delicious and healthful ingredients . . .Miso:Miso is a traditional Japanese ingredient most commonly made from fermented soybeans. It is high in protein and rich in vitamins and minerals. There are many varieties of miso, the most common is white miso (
shiromiso
) but there are also red and brown misos that contain larger quanties of soy. Miso has a strong, tangy, slightly-sweet, salty taste. The miso that I use is made by
Westbrae Natural
and called "Mellow White Miso". I always thought that "mellow" was a misnomer, because I certainly would not describe the flavor as "mellow". However, white miso is definitely less strong than red. I use this miso to make salad dressings, dips, in a marinade for fish, and even add it in small quantities to pesto and hummus to add a salty and savory boost.
Tahini:
Tahini is common ingredient in Greek, Turkish, North African and Middle Eastern cuisine. It has made its way into many modern american kitchens through the vehicle of hummus. Tahini is a paste made from ground sesame seeds (think of it as a sesame peanut butter). It is a key ingredient in hummus and baba ganoush. Good tahini (like other nut and seed butters) should have no more than two ingredients listed on the jar: sesame seeds and salt.
Tahini's flavor is nutty and earthy, and a bit more mild than other nut butters. I have tried a number of different brands. My new favorite is made by Tarazi, a California based company. This tahini is lighter in color and much more creamy than other brands I have used.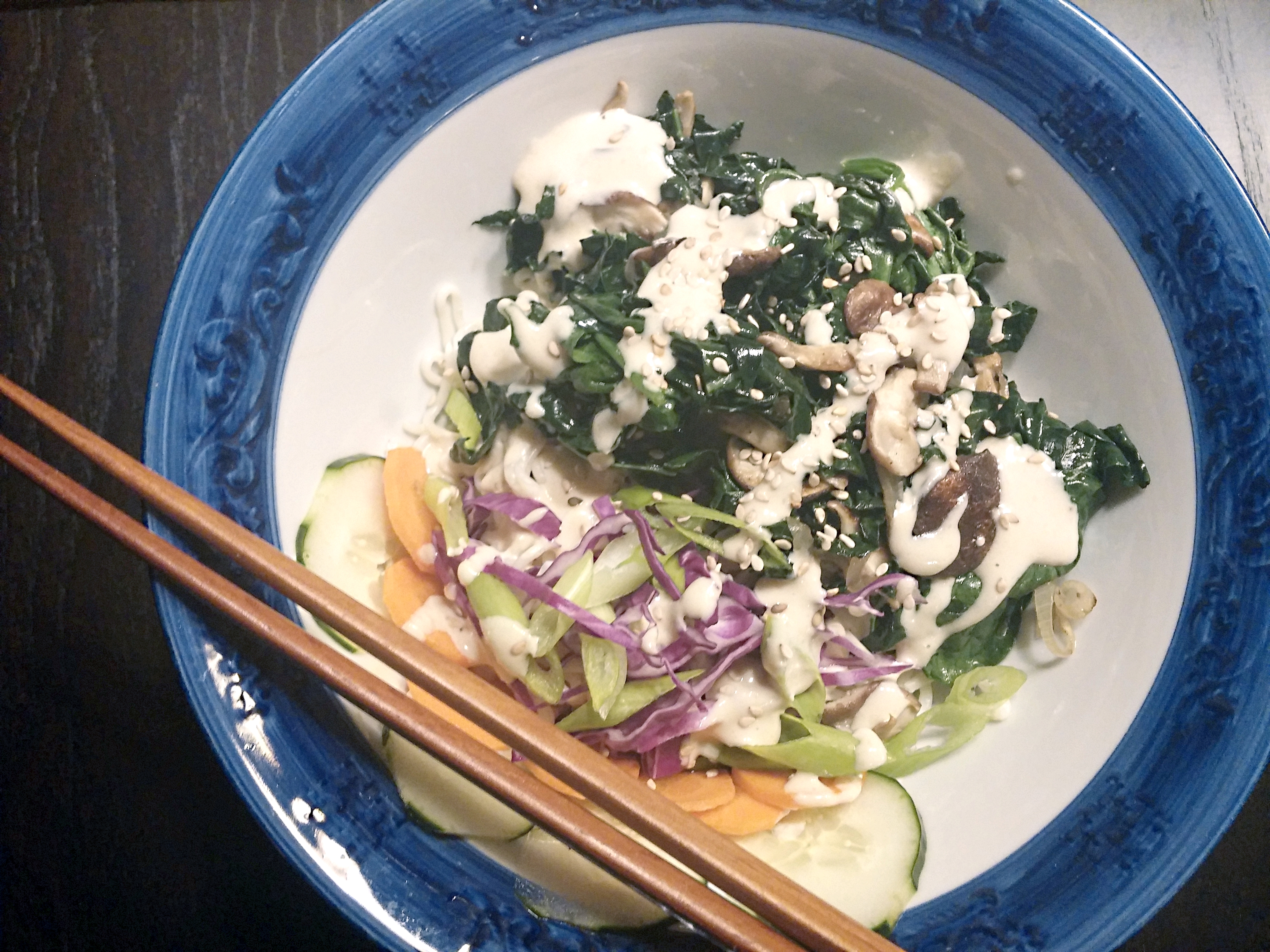 Miso Tahini Noodles with Kale, Spinach and Shiitakes
A delicious miso-tahini sauce marries healthy vegetables with noodles.
Ingredients
Miso Tahini Sauce
1/3

cup

miso

3

TBSP

tahini

2

cloves

garlic

1/4

cup

seasoned rice vinegar

water as needed to thin the sauce
Vegetable Noodle Bowl
1/2

carrot

peeled and thinly sliced

3

inch

piece of cucumber

thinly sliced

3-4

TBSP

seasoned rice vinegar

1

tsp

juice from pickled ginger*

optional

1

TBSP

canola oil

2

shallots

thinly sliced

1

cup

shiitake mushrooms

sliced

4-8

leaves

of lacinato kale

stems removed and coarsely chopped

2

large handfuls of spinach

salt and pepper

2

scallions

thinly sliced

1/4

cup

red cabbage

thinly sliced (optional)

1

TBSP

sesame seeds

optional

1

TBSP

toasted nori

thinly sliced (optional)

2

packages of shiritaki noodles

rinsed thouroughly and dry-fried OR 3 cups cooked pasta or rice noodles
Instructions
Place cucumber and carrot slices in a small bowl with a pinch of salt and cover with rice vinegar and some pickled ginger juice (if using) to create a quick pickle. Set aside while you are making the rest of the bowl.

Combine miso, tahini, garlic and rice vinegar in the bowl of a food processor or blender. Blend until smooth. The consistency of miso and tahini can vary greatly, so check the consistency of the sauce and add water to the mixture as needed to create a medium to thin sauce, similar to the consistency of a creamy salad dressing.

Heat a medium-sized pan on medium heat and add canola oil, shallots and mushrooms, saute mushrooms for 4-5 minutes until starting to brown. Add kale, season with salt and pepper and cook for another 4 minutes or so.

When kale is wilted and tender, remove the pan from the heat and toss in the spinach. The residual heat from the pan will wilt the spinach.

Assemble the bowl by placing the noodles in the bottom of the bowl and topping them with a few spoonfuls of the sauce. Add the shiitake and kale mixture on top of the noodles, then top with the pickled cucumber and carrot and a few more spoonfuls of the miso tahini sauce.

Garnish with shredded cabbage, sesame seeds, and toasted nori (if using).
Notes
*I love pickled ginger (like the the kind that comes with sushi) as a condiment to many Asian dishes. I also like to add it to homemade pickles.