Let me start by staying, this is not a typical breakfast in my house. This is a rich and decadent holiday breakfast, suitable for Christmas morning, or a pre-soccer game brunch for 11 year olds. 🙂
Panettone is a traditional Milanese sweet bread that is enjoyed around Christmas and New Years throughout Europe. It is an egg bread with a light and fluffy texture, and usually contains raisins, currents, candied orange, or other dried fruits. It is widely available in the US around the holidays. I have seen it at Whole Foods and Trader Joes.
I had some panettone left over from a holiday snack mix that I was making, so I decided to use the remaining pannetone to make a holiday french toast. The results were delicious. Enjoy!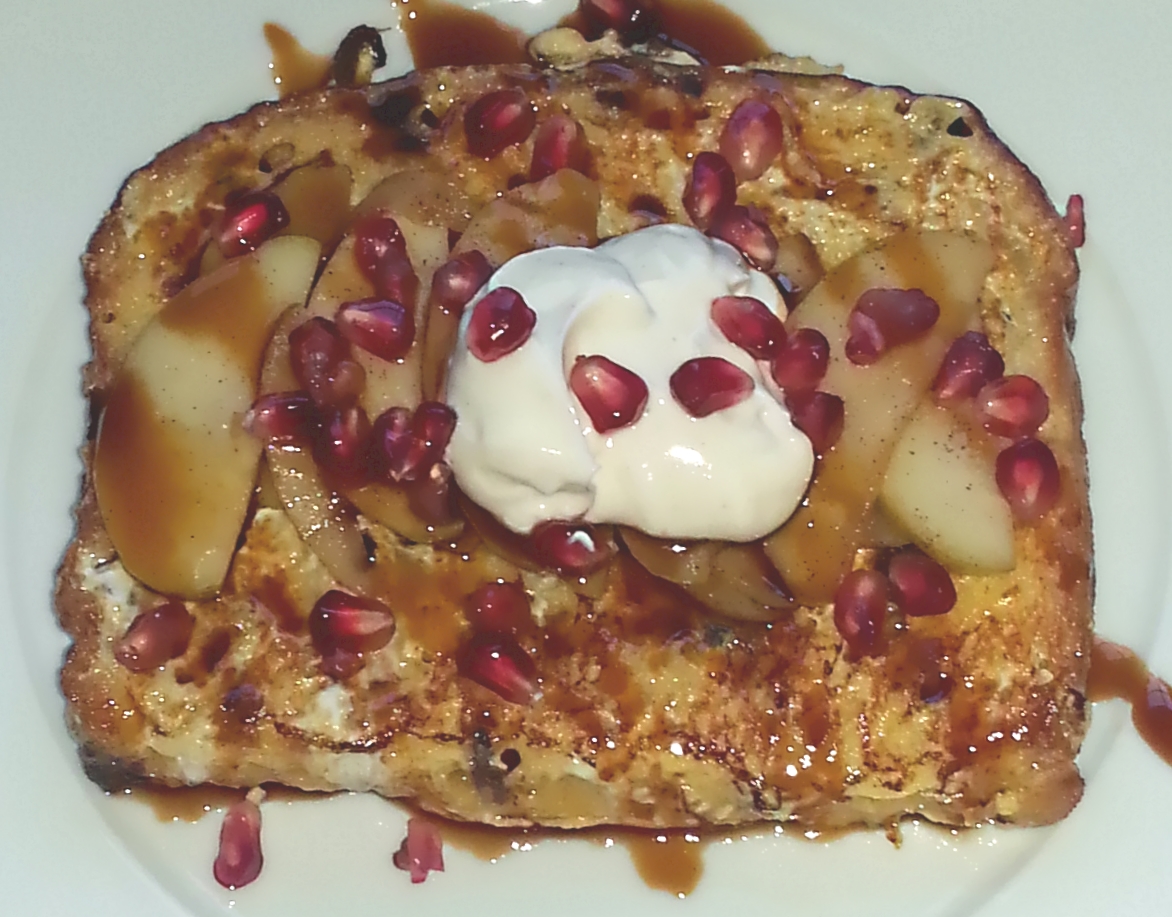 I used sauteed apples, pomegranate molasses, pomegranate seeds, and greek yogurt flavored with honey, vanilla, and cardamom for toppings on this french toast. Pomegranate molasses is a common ingredient in Mediterranean and Middle Eastern cooking. It is essentially a reduction of pomegranate juice with sugar and a bit of lemon. It is a perfect condiment for this french toast. I buy it at my local Mediterranean grocery. You can also find it online.
Panettone French Toast with Apples and Pomegranate
A delicious and decadent holiday breakfast or brunch dish.
Ingredients
For the Apple Topping
1

large granny smith apple

peeled, cored, and thinly sliced

1

TBSP

brown sugar

1

tsp

vanilla

1

tsp

cinnamon

1

tsp

cardamom

1

pinch

salt

1

lemon wedge

squeezed

1

TBSP

margarine or butter
For the French Toast
3

slices

panettone

approximate 3/4 inch thick

3

eggs

beaten

1/2

cup

milk

I used almond milk

1

tsp

vanilla

1

TBSP

brown sugar

3

TBSP

margarine or butter
Toppings
3

TBSP

pomegranate molasses

1/2

cup

pomegranate seeds

1/2

cup

greek yogurt combined with 1 tsp vanilla

1 TBSP honey, and 1 pinch cardamom
Instructions
Heat 1 TBSP of margarine or butter in a non-stick or cast iron pan.

Add apples and saute for ~3 minutes, stirring occasionally.

Add brown sugar, vanilla, cinnamon, cardamom and salt and cook until apples are softned and beginning to brown, ~ another 3 minutes.

Remove apples from pan, add lemon juice, and set aside.

In a shallow dish or pie plate, combine eggs, milk, vanilla and brown sugar.

Heat 1 TBSP of margarine or butter in pan on medium heat.

Dip one slice of pannetone in egg mixture, coating both sides of the bread with egg mixture.

Place pannetone slice in pan, and cook for ~3 minutes on each side until browned.

Remove slice from pan, place on plate and top with 1/3 apple slices, a drizzle of pomegranate molasses, a dollop of honey-cardamom yogurt and a sprinkle of pomegranate seeds.

Repeat process with remaining slices of bread.

Serve immediately.