A few months ago I was in Dallas and I ate at a hole-in-the-wall Vietnamese restaurant that was amazing. They specialized in clay pots, or one pot meals cooked in a clay pot with a lid. I had an amazing clay pot with glass noodles and it prompted me to go out and buy some clay pots and start experimenting. I found some clay pots at World Market and when I got them home and started researching recipes, I realized that they are often used on the stovetop (I assumed they meant exclusively for the oven). Unfortunately, I don't have a gas range, so I wasn't even sure that I would be able to use them. However, after some research and experimentation, I have come up with clay pot recipe that is cooked entirely in the oven.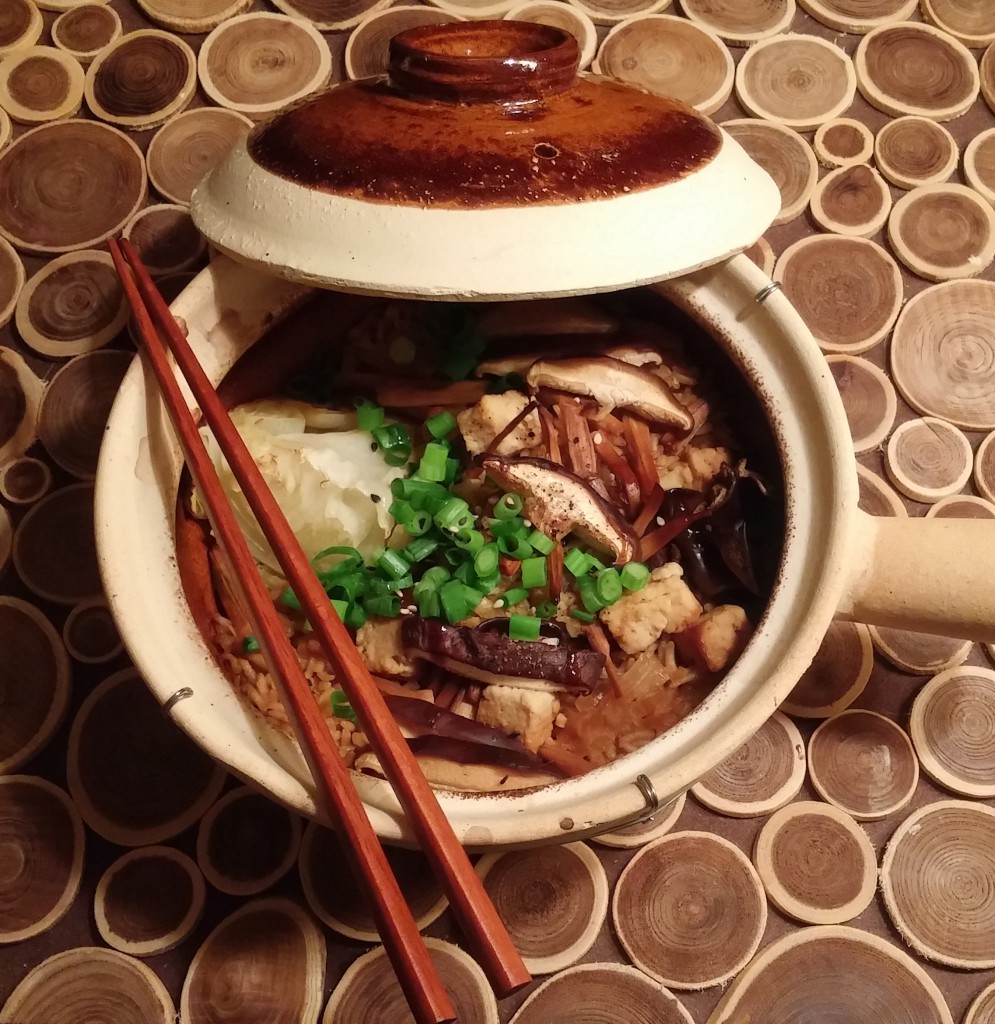 Although I love the look of the clay pots, this dish could be cooked in any small oven-proof dish with a lid, or even covered with foil if you don't have a lid. This dish takes only minutes to throw together, then cooks in the oven for about an hour. Because of the fragile nature of of the clay pots, you should not preheat the oven prior to putting the dishes in; you let the pot gradually come to temperature as the oven heats up. If you are using a regular ovenproof casserole dish, you could reduce the cooking time a bit by preheating the oven while you assemble the dish.
This dish utilizes some specialty ingredients from the Asian market: dried woodear mushrooms, dried lily flowers, and Shaoxing rice wine. You could omit the dried lily flowers and replace the Shaoxing wine with sake or dry sherry. You could also replace the woodear mushrooms with more shitakes, but you would miss out on the interesting texture and wonderful aroma that they provide. They are readily available at any Asian market or a well-stocked supermarket. I find that they are usually labeled "Black Fungus". Keep in mind that they expand A LOT when they are re-hydrated, so use less than you think you need.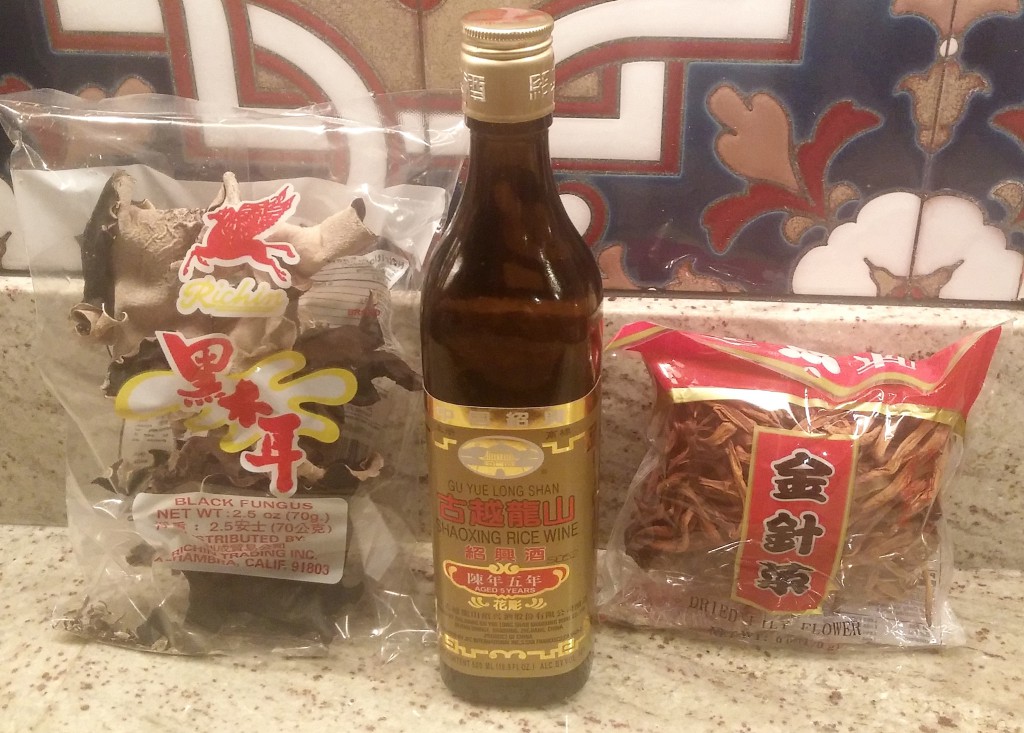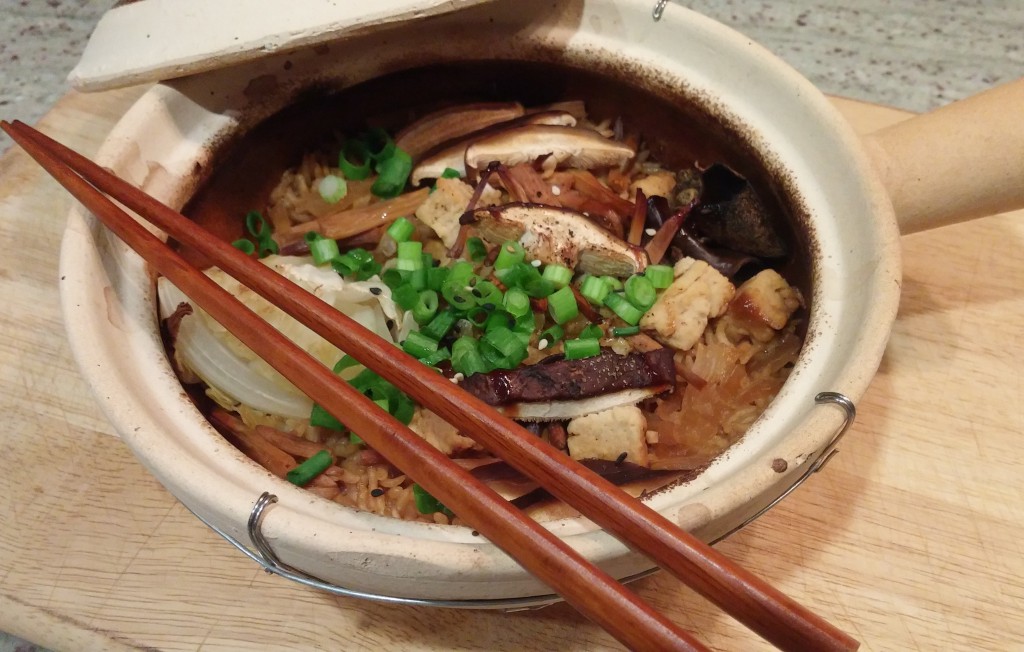 Chicken and Mushroom Clay Pot
A delicious, healthy and easy one pot meal that showcases mushrooms beautifully and compliments them with delicate flavors.
Ingredients
1

large or two small dried woodear mushrooms

5

dried lily flowers

optional

2

or 3 shitake mushrooms

dried or fresh

1/3

cup

rice

rinsed and drained (I use white jasmine rice)

1/3

cup

broth

I like Superior Touch No Chicken Base

pinch

sugar

1

TBSP

rice wine

you could substitute dry white wine

1

TBSP

soy sauce

1

TBSP

oyster sauce

1

small clove garlic

minced

1/2

TBSP

minced fresh ginger

1

medium shallot

finely sliced

1/2

cup

size wedge of green

napa or savoy cabbage

1/2

sliced raw chicken breast OR 1 sliced raw chicken thigh OR 1/2 cup chickenless chicken

I like Quorn OR 1/2 cup cubed tofu

salt and pepper

1

scallion

chopped

drizzle of sesame oil

optional

sprinkle of sesame seeds

optional
Instructions
Rehydrate dried mushrooms and lily flowers (if using) in 1 cup of boiling water.

In your clay pot or casserole mix: rice, broth, sugar, rice wine, soy sauce, oyster sauce, garlic and ginger.

Place sliced shallot and cabbage on top of rice.

Season chicken or tofu with salt and pepper and lay on top of the rice.

Arrange mushroms and lilyflowers around and on top of chicken.

Set oven to 400 degrees and place clay pot(s) in oven. (Do not preheat oven first if using a clay pot.)

Cook for 45-60 minutes until rice and chicken are cooked through.

Garnish with chopped scallion, sesame oil and sesame seeds (if using) and serve with extra soy sauce.