This is a regular meal in my house year round (although it's especially great in summer when you don't want to heat up the house with a lot of cooking). These are really quick and easy and the combination of flavors is amazing.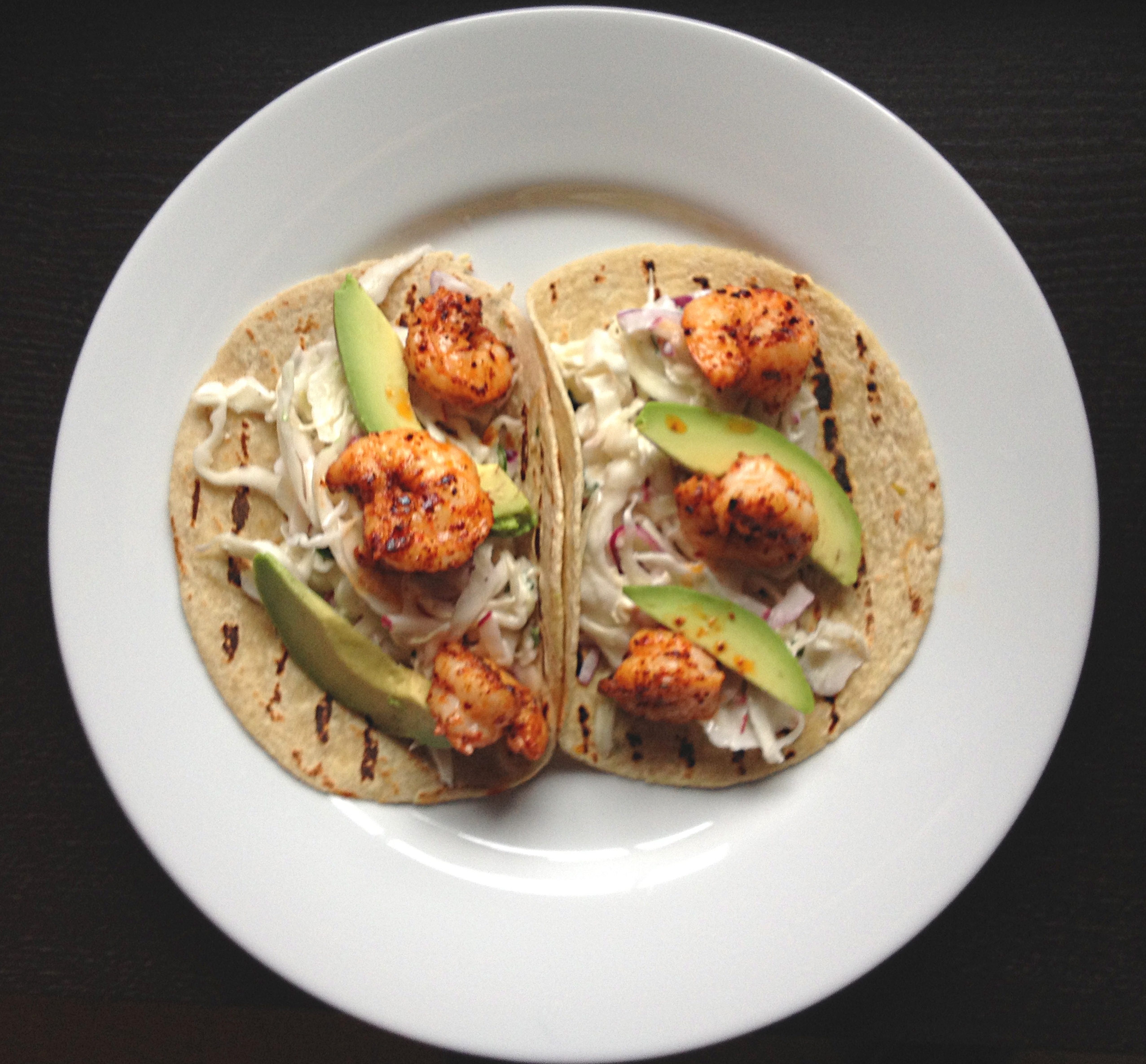 Ancho Shrimp Tacos with Tangy Slaw
Delicious and easy shrimp tacos.
Ingredients
For the Slaw
1 1/2

cups

shredded green cabbage

1/8

small red onion

finely sliced

4

medium radishes

julienned

1/4

jalepeno or serrano pepper

minced

1

TSP

salt

1/4

cup

Wildwood Zesty Garlic Aioli*

1

handful cilantro

chopped

Squeeze of fresh lime juice

1/2

ripe avacado

sliced
For the Shrimp
6-12

shrimp

depending on the size of the shrimp, peeled and deveined

1

TBSP

ancho chile powder

Salt and pepper to taste

1

TBSP

canola oil
Instructions
Place cabbage, onion, radishes and jalapeno in a fine mesh strainer and toss with salt. Let sit for 30 minutes to extract some of the moisture from the vegetables. (This is a totally optional step, but I usually do it because then the slaw doesn't get too watery. However, if you are going to eat it right away, you could omit this step and have a much crispier slaw.)

Toss vegetables with aioli, cilantro and lime juice and set aside.

Toss the shrimp with the seasonings and sauté in canola oil until cooked through. Chop up the shrimp or leave it whole.

Heat tortillas** on a cast iron gill pan until they are warmed and have grill marks.

Serve the shrimp and slaw on corn tortillas** topped with avocado slices.
Notes
*I love Wildwood Zesty Garlic Aioli. It's an eggless/vegan mayo that has a great garlic flavor. You could probably substitute regular mayo and add some minced or pressed garlic. However, I really recommend the Wildwood product, because the flavor and texture are amazing. It's also great for picnic salads and sandwiches because it's eggless and you don't have to worry about food poisoning. I also use it on BLTs.
**One other product plug - I get the most amazing corn tortillas at Whole Foods. The brand is Mi Abuelita Bonita. They make amazing green chile tortillas. They are corn tortillas, but they have a texture that is closer to a flour tortilla. The only place I have ever seen them is Whole Foods.