Is there anything more delicious and decadent than deep dish pizza? This pizza is a bit of work, but definitely worth it. This pizza is an adaptation of the America's Test Kitchen recipe. You make the dough, the sauce, and add plenty of delicious fresh veggies. I sometimes also add veggie pepperoni slices. It's a great Saturday or Sunday night dinner and leftovers make a great Monday lunch.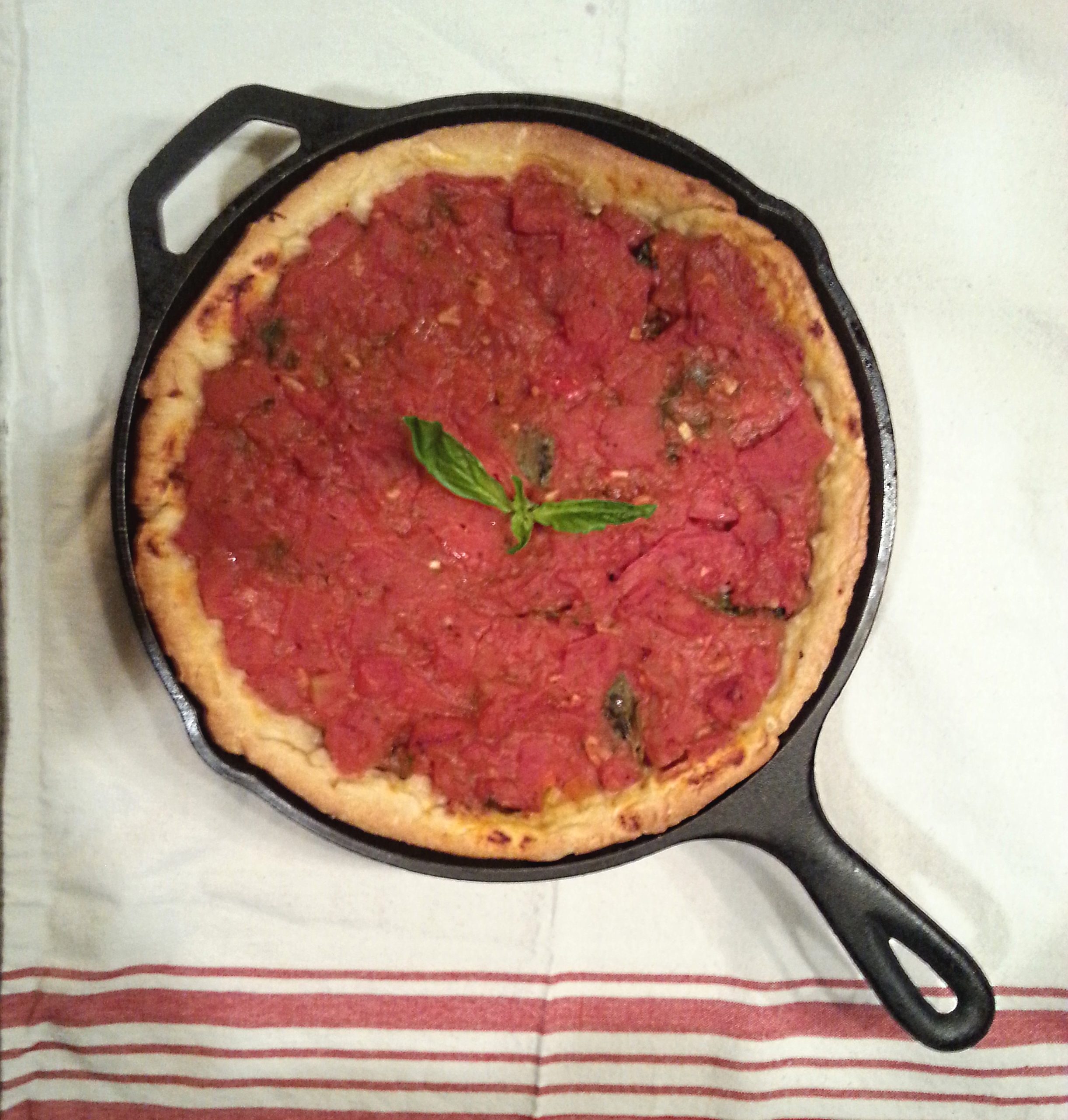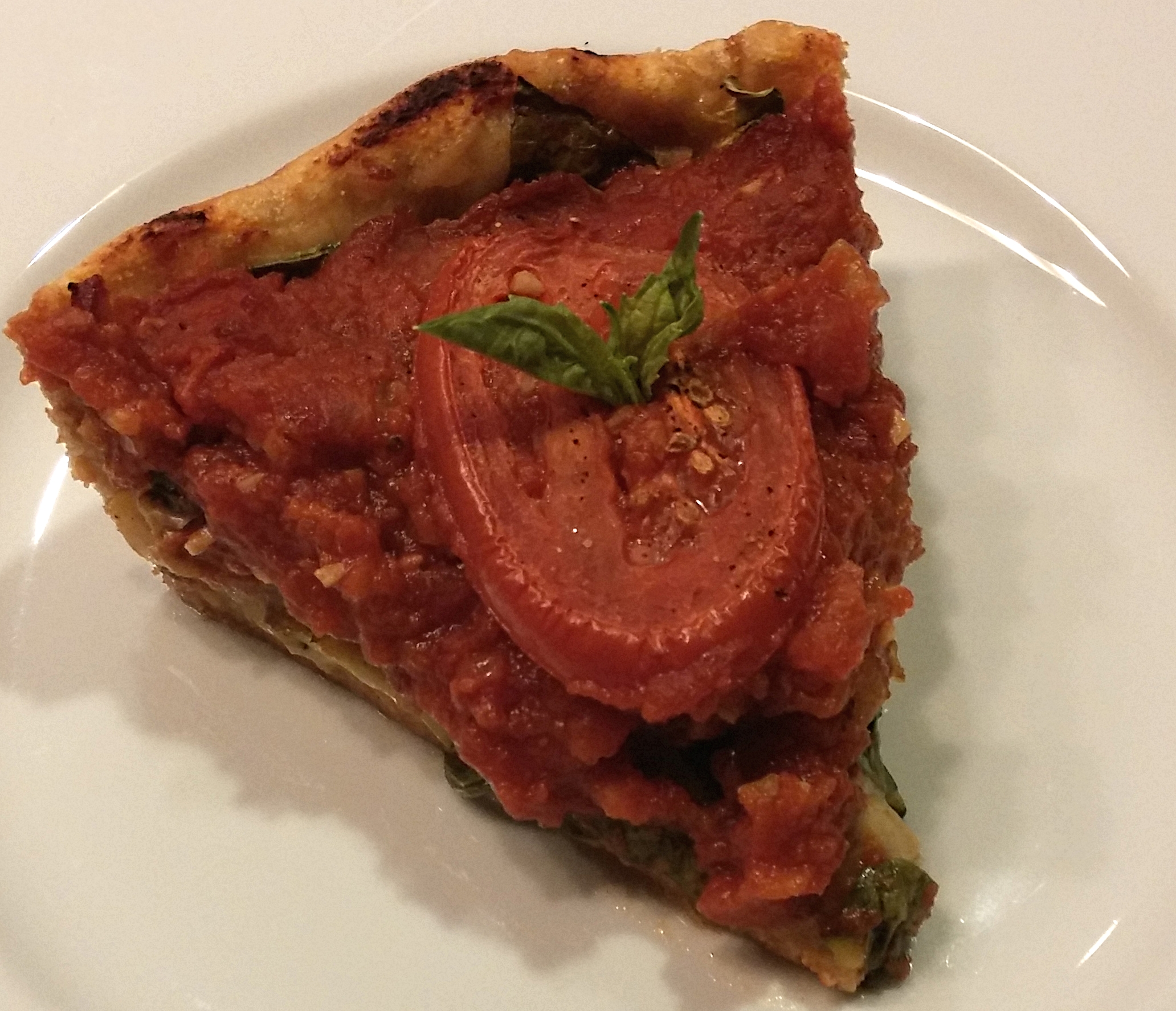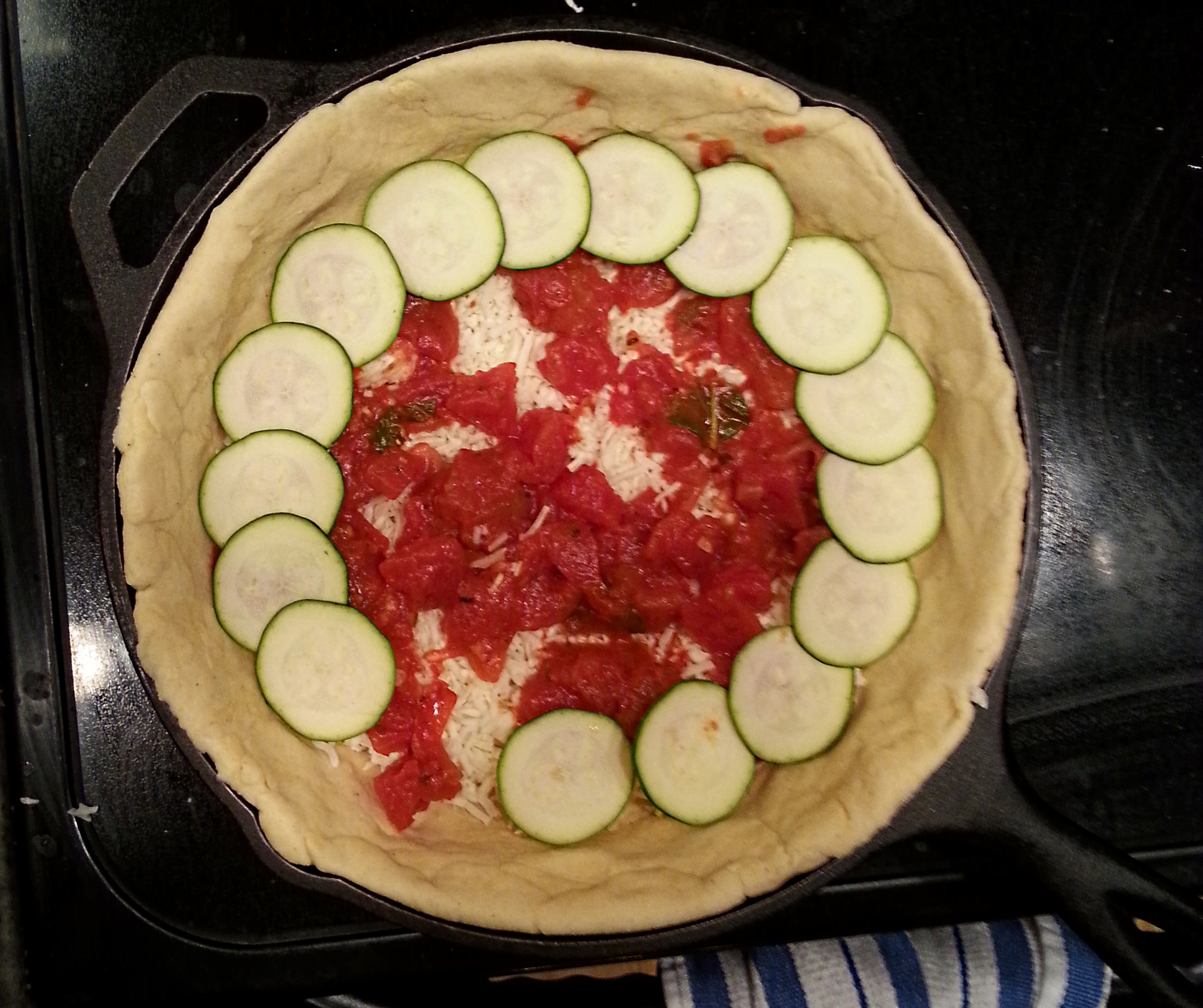 Vegetarian Deep Dish Pizza
The ultimate deep dish pizza: a buttery crust loaded with veggies and tomato sauce. This can be made vegan by omitting the cheese or substituting a vegan cheese.
Ingredients
1 1/2

cups

flour

1/4

cup

fine cornmeal

like masa harina

1

tsp

sugar

1

tsp

active dry yeast

1/2

cup

warm water

1

TBSP

melted margarine or butter

2

TBSP

softened margarine or butter

2/3

cup

shredded mozzarella cheese

1 3/4

cups

homemade tomato sauce or jarred pasta sauce.

2

cups

assorted vegetable toppings such as: thinly sliced zucchini

thinly sliced red onion, thinly sliced bell pepper, fresh spinach, sauteed mushrooms, artichoke hearts, kalamata olives, roasted peppers, pickled hot peppers, fresh basil, etc.

salt and pepper
Instructions
Combine flour, cornmeal, yeast and sugar in the bowl of a stand mixer or food processor fitted with dough attachment. Pulse to combine ingredients.

Add water and melted margarine and process until a ball of dough is formed, scraping down the sides of the bowl when necessary.

Remove ball of dough from mixer or processor and knead for 1 minute by hand, then place dough in an oiled bowl, cover and set in a warm place to rise for 40 minutes to 1 hour.

If making your own tomato sauce, prepare that while the dough is rising.

For any raw vegetables that you are using in the pizza (for example, zucchinni, fresh tomato, onions), place them in a large strainer and sprinkle generously with with salt. Place the strainer over a bowl and set aside so that vegetables can release some of their liquid.*

When dough has risen, roll it out into a rectangle and spread with softened butter.

Fold rectangle of dough into thirds like a business letter, and fold in thirds again. Shape dough into a ball and return to oiled bowl to let rise again for 40 minutes to an hour.

While dough is rising for the second time, preheat oven to 425.

When dough has risen, roll out into circle large enough to line a cast iron skillet or 9 inch round cake pan.

Press dough into bottom of pan and up the sides of the pan to form a deep crust.

Sprinkle dough with shredded cheese (if using) and top with 3/4 cup of tomato sauce.

Arrange vegetables on top of sauce in layers, sprinkling with pepper and salt (omitting salt on the layers of raw vegetables that have already been salted).

Top pizza with remaining tomato sauce.

Place in oven and cook for 30 minutes until crust is firm and sauce is bubbling.

Let sit for 10-15 minutes before cutting and serving.
Notes
*This step will go a long way toward keeping your pizza from being too watery.
Adapted from America's Test Kitchen