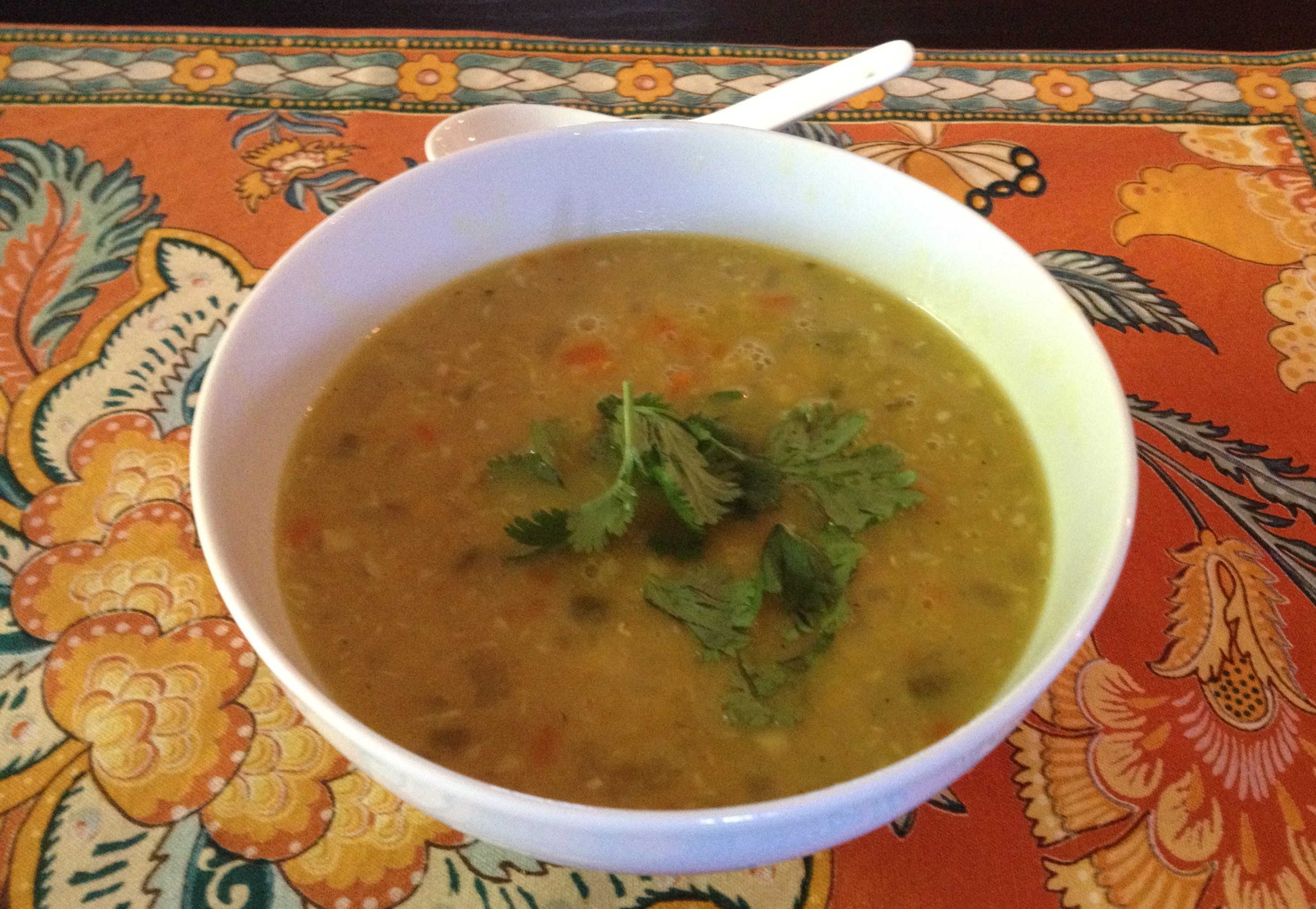 Muligawtawny Soup
2013-09-15 16:42:51

This delicious and hearty vegan soup is great in any season.
Ingredients
1 TBSP coconut oil (I love the flavor of coconut oil in this dish, but a neutral vegetable oil, butter or margarine will work as well.)
1 carrot, finely chopped
1/2 large yellow onion, finely chopped
1 rib celery, finely chopped
1 small granny smith apple, peeled and chopped
1 jalepeno, minced (exclude seeds and membrane of pepper for a less spicy soup)
2-3 cloves garlic (depending on taste)
2 inch knob of ginger, grated
1 TBSP curry powder
1/2 TSP cumin
1/2 TSP garam masala
11/2 cups red lentils
5 cups vegetable broth**
1/2 cup coconut flakes or white rice*(optional)
1/2 cup lite or full-fat coconut milk
salt and pepper to taste
chopped cilantro and red onion for garnish
Instructions
Heat coconut oil on medium heat and add carrot, onion, celery, apple and jalepeno.
Sweat vegetables for 5-10 minutes until starting to soften, then add a generous pinch of salt, garlic, ginger, curry, cumin and garam masala. Cook for another 2 minutes until spices are fragrant.
Add lentils and vegetable broth, stir to combine, and bring to a low boil.
Add rice or coconut flakes (if using).
Cover and simmer for 40 minutes until vegetables and lentils are soft.
If you like a smoother texture, puree soup using an immersion blender, food processor or blender.
Garnish with cllantro and red onion and serve.
Notes
*I prefer long grain white rice or basmati rice in this dish
**I like Better Than Boullion No Chicken Base
TIP
Peel and freeze ginger for storage and easier grating. When fresh ginger is needed, remove ginger from freezer and grate using microplane or fine box grater
NomAppetit.com http://www.nomappetit.com/